So, yesterday,
I asked you all to guess this woman's height and weight
:

So did she
. There were a LOT of responses.
And quantities like "a LOT" should tell you exactly how scientific our analysis of the data was. Nevertheless, we made a fancy graph!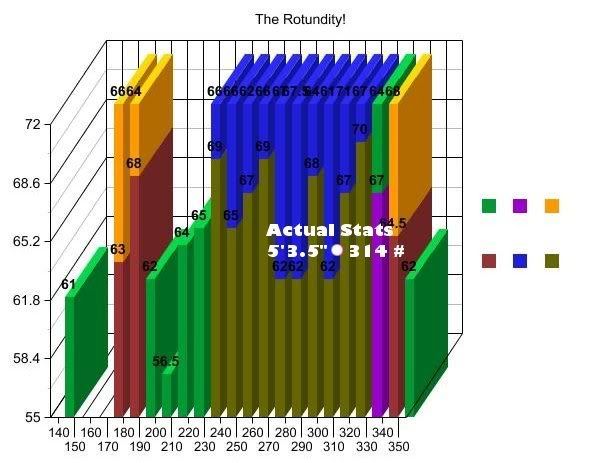 To be honest, I'm not even sure how you're supposed to read this graph, and I'm the one who made it. Here's what I do know: the white dot represents The Rotund's real height and weight.

5 feet, 3 and a half inches; 314 pounds.

Everything that's not on the white dot? Is wrong.

We're both gonna analyze/laugh at the responses in-depth tomorrow, but right now, I need to give a shout out to DBK here and Nadai at The Rotund, who both proved wrong all the whiners claiming there was

no way to tell how tall she was

. 7 x a standard bathroom tile = 5'3" (Nadai), and 3 x a standard toilet = 5'4" (DBK). Since both of those are within half an inch of the correct answer, y'all who said there was just NO WAY TO KNOW can suck it. :)

Also, Rachel from The F Word and cp both guessed the same and damn near

nailed it

. I don't think anybody got closer.

Lowest weight guessed was 140 lbs. Highest was 345. Lowest height guessed was 4'8"; highest was 5'11". But the very best part is the range of answers that started with, "You look like exactly me, so I'll guess..." Those started at 5'7"/180 and ended at about 5'10"/310. I'll be talking about those tomorrow.

For the record, I've known for a long time that The Rotund weighs over 300 lbs., but until recently, I thought she was about 5'8". And I probably would have guessed she weighed about 280 if I hadn't known to go higher.

Mind not blown enough yet? Check out the Photographic Height/Weight Chart.