Hi Shakers, Cernig from
The Newshoggers
here. I've been graciously offered some space here by The Mgmt. to tell you about
a bipartisan blog fundraiser
in honor of the
tragically-killed
NYT op-ed writers Sgt. Omar Mora & Sgt. Yance T. Gray.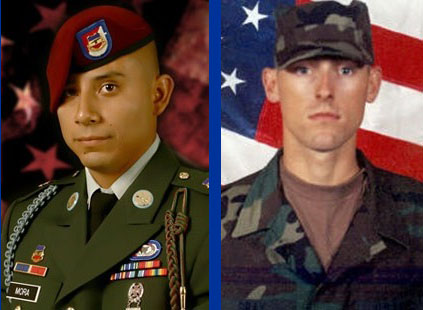 You probably recall that Sgt. Mora and Sgt. Gray were two of the writers of an
op-ed in the New York Times
which was highly critical of the Bush administration's conduct of the Iraqi occupation but which ended, even so, by saying "As committed soldiers, we will see this mission through." A week later, both were killed in a vehicle accident in West Baghdad.
Well, my good friend Kyle Moore at Comments From Left Field ended up in a conversation with Sgt. Gray's father after writing a blog post on the subject and...well...this in memoriam fund is what resulted. This is truly a bipartisan effort and it goes to a good cause. All funds raised will go to the Fisher House charity, an organization which builds houses near military medical facilities where loved ones of those who have been injured in the line of duty can stay free of charge while their service member undergoes necessary treatment.

Comments From Left Field and the Conservative Thinking blog are the co-creators of the fund and so far a whole slew of blogs, both Left and Right, have supported it with links and endorsements. I mean, how often would you expect to see Skippy and Newshoggers, Stop the ACLU and the Jawa Report on the same bloglist??!

With some great support, the fund blasted through its original target of $2,000 in just 24 hours and so they've decided to move the goalposts up to $10,000. I'm here today to ask you to help. If you own a blog, consider joining the list above. If you only read blogs, consider dropping a heavy hint in the comments of all your favorites today.

Thank you in advance, all who support and contribute to this memorial for two courageous servicemen.

Regards, C