The Bush Cult in full effect
:
Tony Snow draped his lanky frame across a wooden lectern, leaned forward and gazed out at 850 adoring Republicans who had paid $175 apiece to hear him speak. There was a conspiratorial gleam in his eye, as if he was about to reveal some deep inner secret from his new life as the White House press secretary.

"Yesterday," Mr. Snow declared, "I was in the Oval Office with the president ——"

He cut himself off, took a perfectly calibrated three-second pause and switched into an aw-shucks voice for dramatic effect: "I just looove saying that! Yeaaah, I was in the Oval Office. Just meeee and the president. Nooooobody else." The crowd lapped it up.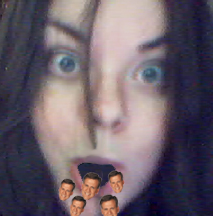 That's me, blowing chunks of Tony Snow.

Lap that up.