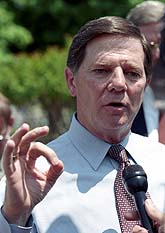 My favorite bit of snark so far, courtesy of
John Howard
:
Good. And good riddance. I just wish he would take some of his buddies with him. I really like this line: "The reason for DeLay's departure was unclear."

Yeah, that's a puzzler.
Heh.
Pam
, as ever, has the Freeper reaction. Here are a couple of my favorites:
"Tom needs to take a break, finish up with this annoying legal business is Texas, and figure out what he can do next with his considerable skills."

"How about Tom as the new White House Press Secretary?"

"Senator Delay?"

"Delay '08"
Yeah! The Bug Man needs to pull all his mad skillz together and become the new White House Press Pony. Or run for the Senate! Or for PREZNIT! I don't know how easy it is to campaign from jail, but where there's a will, there's a way. I'm sure a man of his considerable skills will figure it out.
There's also a lot of moaning in Freepopolis about how this is all down to the damn, dirty Dems. Dudes, your guys control
everything
. You're delusional. And fake martyrs make the baby Jesus cry.
(Crossposted at
AlterNet PEEK
.)