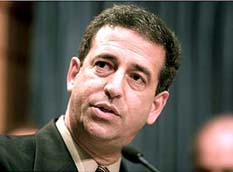 Russ Feingold is a pretty good guy. I hated that he
voted for Roberts
,
really
hated it, but there are a lot of other reasons to like him, not the least of which is his
Progressive Patriots Fund
, which is "dedicated to promoting a progressive reform agenda and supporting candidates
across the country
."
One of the most exciting aspects of the Progressive Patriots Fund is how it fits in as part of a larger effort to rebuild the Democratic Party in all 50 states. As part of this 50 state strategy, Senator Feingold continues to travel across the country, listen to others, speak out on important issues, identify candidates for support, and advance a progressive reform agenda.
For those who believe that the best option for progressives is rebuilding the Democratic Party from the ground up, you really ought to check out what Russ Feingold is doing with his Progressive Patriots Fund. And, frankly, those who have all but given up hope on the Dems might want to check it out, too.
Feingold's the only senator who voted against the Patriot Act, he's started a petition at PPF to hold President Bush accountable for his illegal wiretapping program (which, yes, I've signed), he's got a 100% rating from SANE (pro-peace), 100% from the AFL-CIO (pro-labor), 100% from the APHA (pro-public health), 93% from NARAL (pro-choice), 91% from the NEA (pro-education), 90% from the ARA (pro-senior), 89% from the LCV (pro-environment), 80% from the ACLU (pro-civil liberties), 26% from the COC (anti-corporation), and 0% by the Christian Coalition (anti-wingnut). Not too shabby.
He's likely to be a 2008 presidential contender, which is why I'm taking a moment to give him some attention. And also, he's just released the first ever
Progressive Patriots Podcast
. Check it out.
He's definitely a decent speaker. And he's kinda foxy, too.