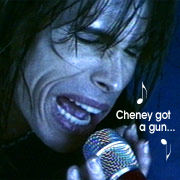 E&P's Greg Mitchell
reports
that more questions are being raised about the delay in reporting Cheney's shooting of a fellow hunter, about whom press reports continue to assert that he is "
very stable
," and that he's only in intensive care because it's routine for gunshot victims to be treated there.
E&P has learned that the official confirmation of the shooting came about only after a local reporter in Corpus Christi, Texas, received a tip from the owner of the property where the shooting occured and called Vice President Cheney's office for confirmation.

The confirmation was made but it is not known for certain that Cheney's office, the White House, or anyone else intended to announce the shooting if the reporter, Jaime Powell of the Corpus Christi Caller-Times, had not received word from the ranch owner…

The Cheney spokesman Powell spoke with, Lea Anne McBride, would not comment on whether the Cheney office or the White House would have ever released the information had the Caller-Times not contacted them.

"I'm not going to speculate," McBride said, according to Powell. "When you put the call into me, I was able to confirm that account."

… The president, who was at the White House over the weekend, was informed about the incident in Texas after it happened Saturday by Chief of Staff Andrew Card and Deputy Chief of Staff Karl Rove and was updated on Sunday, press secretary Scott McClellan said.

But neither the White House nor the vice president's staff announced the shooting.
The
Chicago Tribune
's Frank James is
none too pleased
, either.
Unsurprisingly, the rightwing blogosphere has very little to say about it.
Just a mistake; happens all the time.
Of course, it's not the
sex
shooting; it's the
lying
hiding.