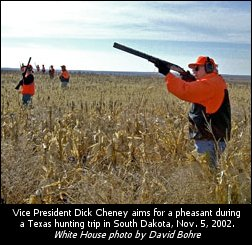 The indispensable Brad Friedman
points out
that some reports are noting the shooting incident took place yesterday at 5:30pm, and asks:
Did they wait until they could report that he would be fine before releasing it at all? Would we have found out about it at all, therefore, if the man had died? Did they wait until after it could be discussed on the Sunday News shows?
Under normal circumstances, I might think such questions are a stretch, but we waved bye-bye to normal circumstances long ago, thanks in no small part to the shooter in question—an integral player in the ushering in of The New Order. The delay of the story until after the Sunday news shows seems pretty likely, at minimum.
Brad's also got more on the Armstrongs, on whose ranch the incident occurred.
Meanwhile, I see that the victim of the shooting, Harry Whittington, is a longtime Republican who has served on the Texas Department of Corrections Board, the Texas Public Finance Authority Board, and the Texas Office of Patient Protection. He was also appointed to the Texas Funeral Services Commission by then-Governor George W. Bush, and during his tenure, the board paid $50,000 as part of a settlement with a state funeral home regulator who said she was wrongfully fired for investigating a large funeral home chain operated by a longtime family friend of George W. Bush. In what might seem a familiar story, the then-governor was not required to testify in the case.
It never ceases to amaze me that no matter what name appears in
any
news story with
any
prominent member of the administration, they always seem to be attached to some scandal in George Bush's past.