The Fat Lady Sings
has tagged me with the "Five Weird Things About Myself" meme, so here goes…
1. I can affect a lazy eye on command.
2. I love raw carrots, but don't particularly care for cooked ones. I love cooked mushrooms, but don't particularly care for raw ones. Just about any other vegetable, I like either way.
3. My hands are extremely lined—both on the tops and the palms. They're not wrinkled, just covered in thousands of little lines. People have always commented on them; I'm quite fond of them, although they are certainly weird.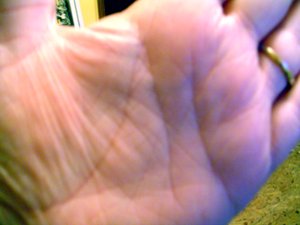 (That picture, btw, barely does them justice. There are hundreds more little lines you can't see. On the palmside of my pinky finger alone, I count 65 lines.)
4. My first word was "cat." I'm fairly certain it was a self-defense mechanism.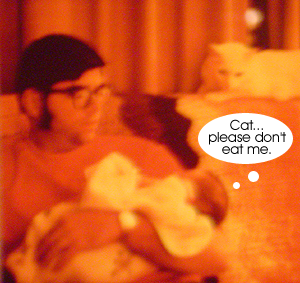 5. I share a birthday (May 11) with Irving Berlin, Salvador Dali, Doodles Weaver, Louis Farrakhan, and Kris Novoselic. I also shared a birthday with my grandmother, who passed away many years ago.
Not going to tag anyone, but if you do it, let me know!