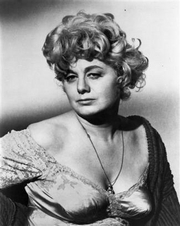 Oscar winner Shelley Winters has
died
at age 85.
Winters was in some films I absolutely adore—
A Place in the Sun
,
The Diary of Anne Frank
,
A Patch of Blue
—but my all-time favorite film of hers is
The Poseidon Adventure
.
She had one of those personalities people either love or hate. I happened to love it. She was a great actress as well as an opinionated and vocal feminist, and I just always thought she was utterly fabulous, both onscreen and off. A most excellent, excellent broad.
I have bursts of being a lady, but it doesn't last long.
— Shelley Winters