Yesterday, I shared with you
the first
of two books my nephew got as Halloween "treats" last year. Though "Satan, Bite the Dust!" is clearly a helpful guide to rendering the devil dead, how many of us really come face to face with Satan on a daily basis? (No fair answering, Scooter—it's no fair if he's your boss.) On the other hand, we're all a little more likely to run into monsters, so "No Monsters" is obviously the more important of the two volumes. It's also autobiographical, as Carman shares his childhood experiences dealing with monsters, which gives us a little more insight into our tour guide to salvation.
No Monsters
A Storybook for Kids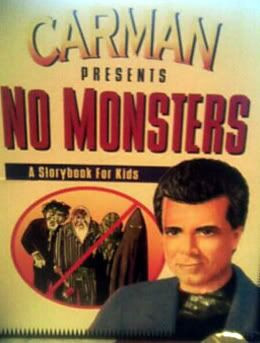 Our story begins with Young Carman watching a scary movie, all alone…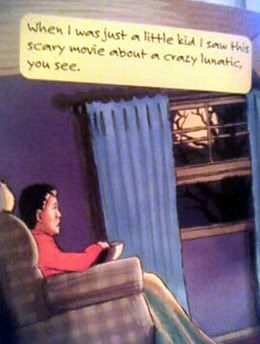 His parents are, inexplicably, nowhere to be found, so he only has the crazy lunatic on the teevee to keep him company.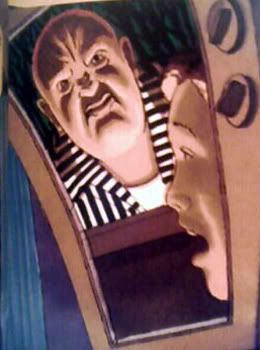 Carman gets it in his head that the crazy lunatic is after him!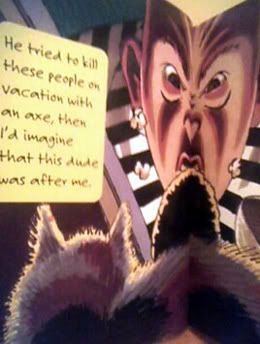 In spite of his disturbing relationship with horror movies, Carman continues to watch them…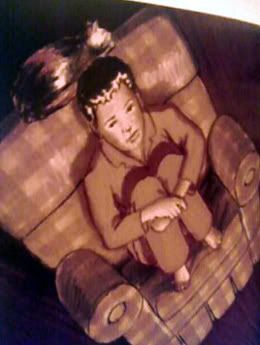 …including one about an alligator man…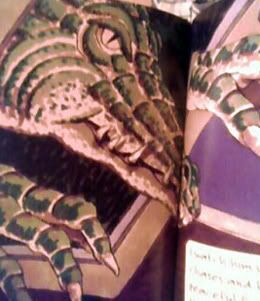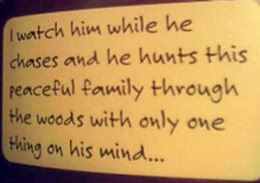 …devouring the peaceful family's child!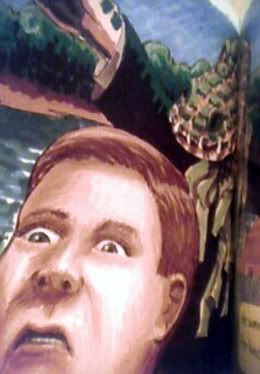 Carman gets very scared when he goes to bed…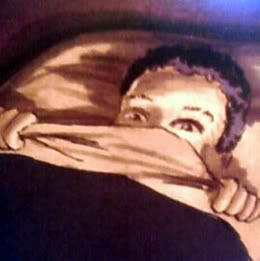 and he sees an evil spirit float by his bed, but…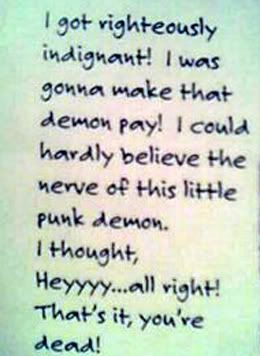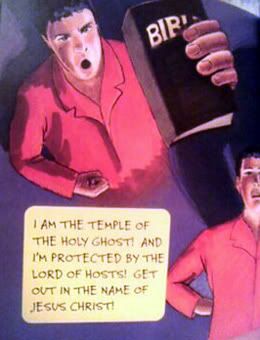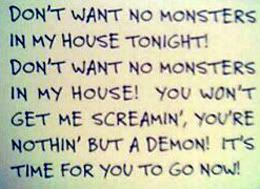 Carman's Christianity takes care of the imaginary demon once and for all, and he finally gets a good night sleep. Or so one imagines. The book ends there. Maybe the monsters killed him. Who knows? Kind of anti-climactic, to be honest. I'd have liked to see Carman's parents giving him a good ass-whupping for watching scary movies on his own and then waking them up by screaming about being the temple of the Holy Ghost.
The one good thing about
No Monsters
, though, is this: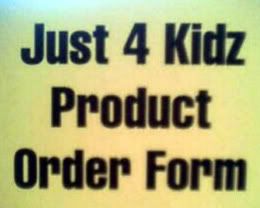 An order form right in the back! I can order music, videos, more books—and I
just might
, so I can keep educating all you filthy heretics and hopefully save your eternal souls from, uh, alligator men.
Happy Halloween!