Here is some stuff in the news today...
[Content Note: Misogyny] Here are some cool headlines about Hillary Clinton today, from
the BBC
and
the LA Times
: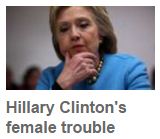 "Female trouble." Like, you know, having your period. It's also pretty cool how Clinton's "armored persona" is her "weak spot," unlike Bernie Sanders who hasn't been subjected to four decades of Can't Fucking Win misogyny and thus gets to be Mr. Cool Cat.
[CN: Misogynist slur] Meanwhile, we've got the Republican frontrunner
using a misogynist slur
against one of his male competitors: "Donald Trump faux-admonished and then repeated a woman who called Ted Cruz a 'pussy' at a rally [in New Hampshire] on Monday night. Trump was criticizing Cruz for, in his view, failing to offer unequivocal support for waterboarding in the debate on Saturday night. Trump then interrupted what he was saying to point out what a woman in the crowd had shouted. 'She just said a terrible thing,' Trump said. 'You know what she said? Shout it out because I don't want to—OK, you're not allowed to say, and I never expect to hear that from you again. She said—I never expect to hear that from you again!—she said he's a pussy. That's terrible. Terrible,' Trump said, throwing up his hands. ...A few people near BuzzFeed News at the event started chanting, 'Pussy! Pussy!' after Trump said this."
Oh, President Obama, how I will miss you: "In
a wide-ranging conversation
on Super Bowl Sunday, President Obama opened up to 'CBS This Morning' co-host Gayle King in the Oval Office to discuss his final months on the job. He reflected on memorable visitors, shared charms that he rotates in his pockets, discussed how the presidency changed him, and what stresses him out when it comes to the future. ...But the president is also known to love babies. 'I love getting on the ground with babies in the Oval Office. And they're unrestrained so they will run around. They will take out all the apples out of the bowl and set them in various places and then put them back and, they're out of control,' Mr. Obama said."
[CN: Anti-choice terrorism] The bravest people: "The Planned Parenthood clinic in Colorado Springs where a shooter killed three people in November
will reopen February 15
. The accused shooter, Robert Lewis Dear Jr., said he 'picked Planned Parenthood because it's murdering little babies,' an apparent reference to a series of attack videos released last year by an anti-choice front group known as the Center for Medical Progress (CMP). Dear awaits trial on 179 charges, including first-degree murder. 'We are in awe of our healing and resilient colleagues in Colorado Springs,' Vicki Cowart, president and CEO of Planned Parenthood of the Rocky Mountains, said in a statement. 'They are eager to get back to the mission they so deeply care about and the people they so compassionately care for. We welcome our team and our community back into the space with open arms and full hearts.'"
[CN: Prosecutorial misconduct; racism] Good: "A Texas legal disciplinary board
upheld a decision
to disbar a prosecutor who oversaw a case that sent an innocent man to death row. The board on Monday affirmed an earlier decision that found Charles Sebesta extracted false confessions and withheld testimony to convict Anthony Graves, who spent 18 years in prison before he was exonerated. The Texas supreme court-appointed board of disciplinary appeals said Sebesta's behavior in the case was 'egregious.' ...There was no physical evidence linking Graves to the murders. The prosecutor's case instead relied on a string of prosecutorial misdeeds. Sebesta presented false testimony in the case and withheld information from the defense."
[CN: Transgender healthcare; carcerality] "Nearly one year after the Department of Justice confirmed that denying hormone therapy for transgender people in prison is cruel and unusual punishment, Texas
just loosened its strict guidelines
for who could receive the treatment. Texas' Department of Criminal Justice (TDCJ) policy now allows prisoners to receive hormone therapy behind bars, even though they weren't undergoing therapy prior to their incarceration. Until last week, TDCJ only provided the treatment plan for inmates who went through hormone therapy before they were locked up. Now, any prisoner who is diagnosed with gender dysphoria—'clinically significant distress or impairment that is associated with the marked incongruence between one's experienced or expressed gender and one's assigned gender'—can qualify for the treatment." Getting a diagnosis, however, could still be a significant barrier to accessing care.
[CN: Illness] Shit: "
Scientists confirm second, more intense form of Lyme disease
: 'At this time there is no evidence that B. mayonii is present outside of the Upper Midwest,' Dr. Jeannine Petersen, a researcher at the CDC, told CBS News. 'However, people who live in areas where black-legged ticks are common should continue to take precautions.'"
[CN: Misogynoir] On
The Daily Show,
Jessica Williams
shut down all the Beyoncé haters
. "Race was brought in because Beyoncé was brought in and, brace yourself, you might want to sit down for this, but Beyoncé is…black! And as a black person, you walk around every day constantly reminded that you are black. [Beyoncé is black] and this song is her message." BOOM.
[CN: Video autoplays at link] And finally! An Italian Greyhound
tries peanut butter
for the first time. LOL!