Care of
Entertainment Weekly,
and via
Spinoff
, here is a new image from the set of
Ghostbusters,
coming to OUR FACES in July of next year: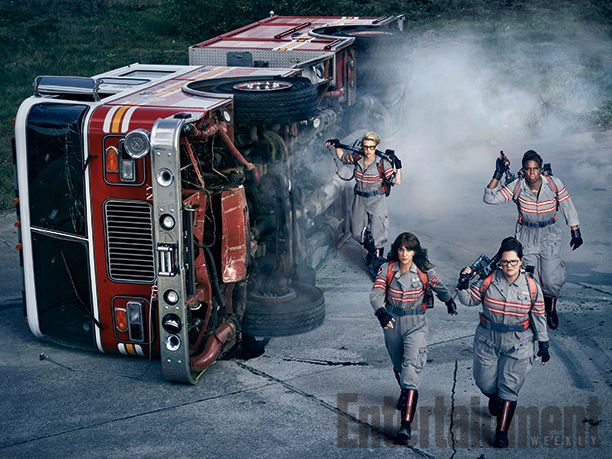 I can't wait I can't wait I can't wait!!!
In related news, there's
a really great profile
of Leslie Jones in the
New Yorker.
I especially loved this bit:
On the "Alias Smith and LeRoi" podcast, which was recorded in late 2013, Jones returned often to the topic of sexism. "You guys gotta support us," she said. "You have somebody like the dude from 'S.N.L.' say that black women are not funny? People listen to that shit."

LeRoi corrected her: "He didn't say 'funny.' He said 'ready.'"

They were referring to a recent TV Guide article noting that "S.N.L." had just hired six new cast members, five of them white men. The reporter asked Kenan Thompson, one of two black [men] on the show, why there hadn't been a black female cast member since 2007, when Maya Rudolph left. "In auditions, they just never find ones that are ready," he said.

...Around this time, Jones was at an L.A. comedy club called Inside Jokes, waiting to go onstage, when someone told her about Thompson's comment. "He should come battle me," Jones said. "Give me ten minutes and I'll ruin his life." That night, she had a strong set. After her closing joke, she said, "And they say we ain't funny, huh?," dropped the mike, and walked off to a standing ovation.

On the podcast, Jones said of Thompson's remark, "They're not 'ready'? That's bullshit. 'Cause I know I'm ready."

LeRoi, who has worked as a producer on several comedy shows, said, "'Ready' is not just the can-you-be-on-camera part. When you say 'ready,' it's, like, 'Yeah, bitch, you might have four impersonations, but can you write a fucking sketch? Yes—can you get ten sketches turned down and write an eleventh sketch?'"

Jones tried to speak.

"No, no, no—keep listening," LeRoi said.

She exhaled audibly, but let him finish mansplaining. "I have never said I would want to be on 'Saturday Night Live,'" she responded. "I don't do impressions. I don't know if I could write sketch. So, no, I would never put myself into that circle. Even if they asked me to come and audition, I'd really be, like, 'Eh, I don't know if I can do that.' But I do know women who can." Pounding a hand on the table, she added, "There's motherfuckin' three bitches I can call right now, goddammit, that will fill that spot. ...Just because you don't know them, that don't mean that they don't fucking exist. That's like saying Italy does not exist. Motherfucker, yes, it does. I've been there."
Jones, of course, was later hired as a writer on
Saturday Night Live,
became a featured performer, and it was during a sketch she did during "Weekend Update" that Paul Feig saw her and decided she was one of his Ghostbusters. Boom.