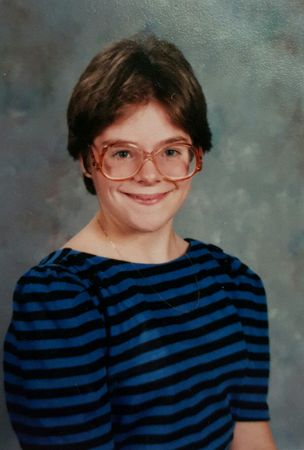 My 6th-grade school photo, taken the year after this mess.
I was in love with the dress I was wearing in that picture: It was a knee-length dress, with oversized black decorative buttons running down the side, and it looked like I'd stolen it off an extra playing a paralegal on
L.A. Law.
That was the same year
I purchased
The Return of Bruno
on cassette, so lots of excellent decision-making going on at that time.
That was also the first time I'd ever cut my hair short. Future Misandrists of America!
[Please share your own throwback pix in comments. Just make sure the pix are just of you and/or you have consent to post from other living people in the pic. And please note that they don't have to be pictures from childhood, especially since childhood pix might be difficult for people who come from abusive backgrounds or have transitioned or lots of other reasons. It can be a picture from last week, if that's what works for you. And of course no one should feel obliged to share a picture at all! Only if it's fun!]