[Content Note: Spoilers are lurching around undeadly herein.]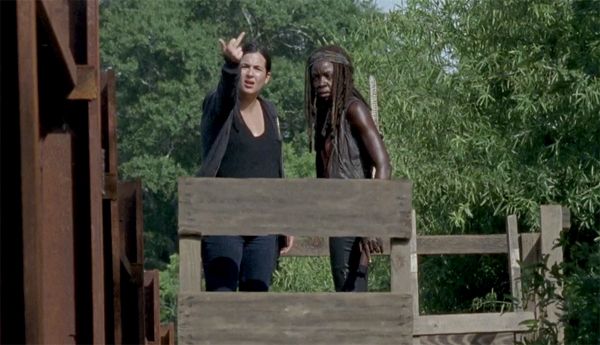 In which Tara speaks for us all.
Me,
one million years
four weeks ago
: "Glenn isn't dead. We're definitely supposed to
think
that Glenn is dead! But unless Glenn has anatomy unlike every other human being on earth, and his intestines are actually in his throat, it wasn't Glenn's innards that were being eaten; it was the innards of Douchebag Beta, whose corpse was lying on top of him, after their fall from the top of the dumpster."
I AM A GENIUS!
Ha ha just kidding! It definitely did not take a genius to figure out that the writers of
The Walking Dead
are the woooooorst and were totally pulling the most terrible stunt in the history of terrible stunt television!
So, after
eleventy thousand
three episodes of bullshit filler, finally we find out that Glenn was, in fact, not dead (TO THE FAINTING COUCHES!) and it was indeed the corpse of Douchebag Beta that was being torn to pieces by hungry zombies. Naturally, Glenn escapes by scooting under the dumpster, into which this entire show should be thrown. He hangs out there until the zombies disperse, then scoots back out, and he's SO THIRSTY. (Almost as thirsty as the writers of this show.) Luckily, someone throws him a bottle of water.
It's Enid! Who ran away from Aarontown despite the commands of her teenage paramour and patriarch-in-training Tig Nocarl. Glenn thanks Enid for her assistance by being a Grimesian nightmare, shouting at her that she's not allowed to try to survive on her own. "YOU ARE A TEENAGE GIRL! WHAT MAKES YOU THINK YOU HAVE ANY AGENCY? I AM A MAN, AND I SAY YOU'RE COMING WITH ME, SO THAT'S THE END OF IT, LITTLE LADY!" shouts Glenn.
I'm paraphrasing, but that's the gist of it. He screams the same thing at her approximately three more times, in addition to auditing her emotions in a supercool way: "I'm not afraid," she tells him, to which he replies, "OH YES YOU ARE. I KNOW YOU BETTER THAN YOU KNOW YOURSELF, EVEN THOUGH, AS YOU CORRECTLY POINTED OUT, WE BARELY KNOW EACH OTHER! WE DON'T HAVE TO KNOW EACH OTHER! I AM A MAN AND YOU ARE A NOT-MAN, AND THEREFORE I AM AN EXPERT ON YOUR EMOTIONS AND THE INDISPUTABLE AUTHORITY ON YOUR LIFE! SO SHUT THE FUCK UP AND BLOW UP SOME GODDAMN BALLOONS SO WE CAN SIGNAL MY WIFE! SHE PROBABLY HASN'T EVEN EATEN OR WIPED HER ASS OR BREATHED IN THE TIME I'VE BEEN GONE WITHOUT ME THERE TELLING HER WHAT TO DO! MOVE IT!"
Approximately. I'm transcribing from memory.
Did I mention I'm really glad that Glenn survived? What a relief.
Meanwhile, back at Aarontown, Grimes starts building reinforcements to the wall, and a rando Aarontownian joins him, just so we can have another terrific scene of someone telling Grimes that he was right all along. Grimes also lectures Maggie about survival, like she hasn't been through it; barks at Morgan that they need to talk, like Morgan's a naughty child; tears down Gabriel's posters for a prayer circle; and teaches Ron Blinney how to use a gun, with the condescending help of Tig Nocarl, who's whipped out his cool hat for the occasion.
Ron Blinney wants to practice shooting, but Grimes is all HELL NAW KID, and Tig Nocarl is being such a sanctimonious brat. I hope Ron Blinney isn't fixing to steal some ammo and do something stupid!
Grimes has a great chat with Morgan, who is still hiding an injured W-Head in a cell. He asks Morgan if he really thinks he can survive without getting blood on his hands. "MURDER IS THE ONLY WAY!" Grimes screams. At least, that's how it is in my memory. Lest you imagine that this show doesn't believe in gender equality (lol), Rosita Espinoza also screams at Dr. Mulletworth that MURDER IS THE ONLY WAY, and Carol tells a small child that MURDER IS THE ONLY WAY. The Grimes Doctrine ain't just for the menfolk, LADIES.
Morgan decides to get in a little patriarchal posturing of his own, when he pays a visit to Doctor Zoey and shames her for her lack of confidence. Cool negging strategy to get her to participate in his secret plan to heal the W-Head he's got in captivity.
Elsewhere, another man has a bright idea! Deanna's surviving son Spencer decides he's going to save the town from the impending zombie horde by shimmying over the wall along a rope he's attached to the watchtower with a grappling hook. He's making his way across, with Grimes screaming bloody murder at him, when the rope starts to give way. OH NOES! Spencer dangles from the rope, and his feet are just out of reach of the zombies. Grimes pulls him up to safety while Tara shoots at zombies getting too close.
There might actually have been some dramatic tension in this scene, since Spencer is as expendable as it gets for a character whose name we know, except it was obvious from the get-go that the whole point was just to give Grimes another chance to scream at someone.
And, sure enough, Grimes screams at Spencer about how stupid he is and that if he has any more ideas, he needs to run them by OPTIMUS GRIMES. (To which Spencer pitifully mutters: "Would you have listened?" Ha ha good point!) Grimes then screams at Tara for putting herself in peril to save Spencer, which prompts Tara to flip him off.
See photo above. I like to think that Michonne is fondly remembering that time she punched Grimes in the face. Good times.
All kinds of mini-arcs start to careen toward confrontation—Carol discovers Morgan is hiding someone; Ron Blinney has raided the arsenal and has pulled a gun on Tig Nocarl; Glenn and Enid arrive at the outskirts only to discover the mass of zombies outside the wall—when suddenly the watchtower, to which Spencer had affixed his rope for his ill-fated plan, topples over, crashing into the wall.
LOLOLOLOLOLOLOLOLOLOL OF COURSE IT DOES. THIS FUCKING SHOW.
Next week: More of this garbage.