[Content Note: Terrorism; violence; death; religious extremism; white supremacy; Islamophobia.]
Late last week, the Islamic State (IS) carried out bombings in Beirut, Baghdad, and Paris. This is a thread for discussion and information-sharing on the bombings and subsequent events; although links may contain images of violence, please keep this an image-free space as you discuss and share. Thank you.
In Beirut, Lebanon
, two bombers killed "at least 43 people and wounded more than 200 others in a predominantly Shia area" in the southern part of the city. "'Soldiers of the Caliphate' were responsible for the attack, according to a statement allegedly posted by ISIL, which was published a few hours after Thursday's blasts. ...The bombings came at a busy time in the evening when the streets were full of families gathering after work."
In Baghdad, Iraq
: "The Islamic State militant group claimed responsibility for a suicide blast and a roadside bombing that targeted Shiites in Baghdad on Friday, killing 26 people and wounding dozens. The suicide bomber struck a memorial service held for a Shiite militia fighter killed in battle against the Islamic State in the Baghdad suburb of Hay al-Amal, a police official said. That explosion killed 21 people and wounded at least 46, he said. Also on Friday in Baghdad, a roadside bomb detonated at a Shiite shrine in Sadr City, killing at least five people and wounding 15, police officials said. Since the emergence of Islamic State extremists, attacks in Baghdad have taken place almost daily, with roadside bombs, suicide blasts and assassinations targeting Iraqi forces and government officials, causing significant civilian casualties."
In Paris, France
, six attacks in the city and suburbs, including a siege at a concert hall in which attendees were held hostage for two hours, 129 people were killed and dozens wounded by
at least eight men
, seven of whom blew themselves up during the attacks. Seven others have been arrested in connection with planning the attacks.
The attacks "
were concentrated in the center of Paris
, on the Right Bank. These are places and streets that burst with life on a Friday evening. It is where young and hip Parisians gather to drink and socialize. Le Carillon, La Belle Equipe, Le Petit Cambodge: these are ordinary neighborhood joints where you meet your buddies for a quick 'demi' of watery French beer or a snack before going out somewhere else. ...This is not the side of Paris seen by tourists or business travelers; rather, it's an area where actual Parisians and people from the banlieues hang out and mix together. ...The attackers, whomever they may be and whatever their motives, went after the heart of progressive Paris. They did not attack the more touristy Champs-Elysées or Notre Dame, or the more bourgeois and conservative left bank, where most of the government ministries are located."
The reason for that is clear, from IS own literature: They are
seeking to
"destroy the 'grayzone' of coexistence between Muslims & [non-Muslims in] the West." They want to provoke non-Muslim Westerners into Islamophobia and violent retribution, and force non-radical Muslims to choose sides.
The disproportionate attention on and concern for Paris, to the exclusion of concern for the people of Beirut and Baghdad, as well as the daily terror being wreaked by IS in Syria, facilitates the very division IS is seeking to cause: In the
New York Times
piece "
Beirut, Also the Site of Deadly Attacks, Feels Forgotten
," Elie Fares, a Lebanese doctor, is quoted observing: "When my people died, no country bothered to light up its landmarks in the colors of their flag. When my people died, they did not send the world into mourning. Their death was but an irrelevant fleck along the international news cycle, something that happens in those parts of the world."
IS also seeks to draw Western countries into further military confrontations, in the hope of depleting resources, radicalizing civilian Muslim populations in targeted areas, and fulfill prophecies about war with apostates.
This piece in the Atlantic
is a long but very important read about IS' objectives and motivations, and why it isn't helpful to say that IS aren't "real" Muslims.
They are not representative of Muslims,
and it is wretched bigotry to suggest that they are, but it is also catastrophically unhelpful to dismiss them with a No True Scotsman fallacy that suggests they aren't Muslims at all. Their ideology is squarely centered in a particular (and deeply odious) interpretation of Islam, and comprehending their objectives and motivations necessitates understanding their specific religious motivations,
in addition
to the other cultural and economic motivations that underwrite radical terrorism.
Because of profound misunderstandings of IS, the military response to IS continues to play directly into their hands: "
France retaliates with 'massive' airstrike against ISIS in Syria
."
Further, because one of the Paris bombers is believed to have made his way into the country with refugees, there is now an alarming amount of reactionary rhetoric regarding the refugees, in both France and the US.
[CN: Videos may autoplay at both links] As but two of many examples: French Interior Minister Bernard Cazeneuve
has said
that the state of emergency in France should allow for the more rapid dissolution of mosques "where hate is preached." And,
in the US
: "The governors of Alabama and Michigan said Sunday that they would not resettle any refugees from Syria in their states, amid reports that at least one of the Paris attackers slipped through Europe's immigration system and concerns about 'gaping holes' impacting America's screening process."
Meanwhile, Republican presidential candidate Jeb Bush
says that
the US' refugee efforts should prioritize Christians: "We should focus our efforts as it relates to the Christians that are being slaughtered. ...This is a threat against Western civilization, and we need to lead. The United States has pulled back and when we pull back, voids are filled. And they're filled now by Islamic terrorism that threatens our country."
And Republican presidential candidate Ted Cruz echoed Bush's suggestion that we should only extend refuge to Christians,
adding that
"There is no meaningful risk of Christians committing acts of terror." Which, of course, is total horseshit.
This is dangerous and mendacious rhetoric. IS' primary target has been and continues to be Muslims they view as apostates.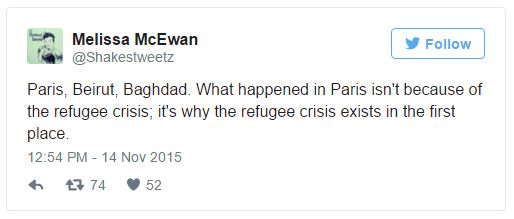 I don't know what the solution is to containing IS. But I do know this: Military strikes that continue to kill civilians, xenophobic fearmongering, and shutting our door to refugees who are trying to escape
the same people subjecting them to the same terroristic violence
is not an answer. It's an escalation.
My sincerest condolences to those who have lost family, friends, neighbors, and/or colleagues in the IS attacks. I am so sorry. I am so sad and so angry for you. My sympathy to everyone in the communities which have been terrorized and continue to be terrorized, as well as to Muslims—and Sikhs and other people presumed to be Muslim—who will be targeted for violent retribution, for something they did not do.
I am not a praying person, and I am not sure I would know for what to pray even if I were. Even what we call "peace" tends to come at a price that many innocent people would have to pay.
Update 1:
Also recommended: "
After Paris Attacks, Critics Warn Against 'Wars of Vengeance'
."
UPDATE 2:
[CN: Video may autoplay at link] Alabama and Michigan have now
been joined by
Texas, Arkansas, Louisiana, and Indiana in saying they will refuse to accept Syrian refugees.
UPDATE 3:
Massachusetts' Governor
also says
"he's opposed to allowing more Syrian refugees into Massachusetts in the aftermath of the terrorist attacks in Paris. The Republican said Monday the safety and security of the people of Massachusetts are his first priority and he would have to know a lot more about the federal government's refugee vetting process before allowing them into the state."
UPDATE 4:
Also recommended: "
Us Against Them, Part Whatever
."
UPDATE 5:
[CN: Video may autoplay at link] More than a dozen governors
have now said
they will not accept Syrian refugees: Alabama, Arizona, Arkansas, Florida, Illinois, Indiana, Massachusetts, Michigan, Mississippi, New Hampshire, North Carolina, Wisconsin, and Texas have all said they either flatly won't take in refugees and/or want better vetting of refugees before they will accept them.
UPDATE 6:
"French leaders vowed Monday to exact justice from Islamic State militants behind last week's carnage in Paris, as European authorities intensified efforts to untangle the plot behind the worst violence on French soil in more than a half century. ...By late Monday, French and Belgian officials
had conducted more than 160 raids
, arrested more than 20 suspects and seized weapons as they sought to identify others involved in planning the attacks, and to pinpoint links between attackers and the Islamic State's leaders in Syria and Iraq."