This is your semi-regular thread
in which fat women can share pix, make recommendations for clothes they love, ask questions of other fat women about where to locate certain plus-size items, share info about sales, talk about what jeans cut at what retailer best fits their body shapes, discuss how to accessorize neutral colored suits, share stories of going bare-armed for the first time, brag about a cool fashion moment, whatever.
* * *
I
still
haven't bought anything new, but today I'm wearing one of my favorite fall combos—my beloved grey cap (procured on Etsy) and my burgundy moto jacket (which I love to bits even though I'm always annoyed it doesn't have pockets):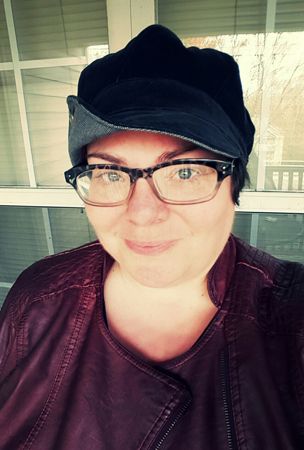 Two news items of interest to Fat Fashionistas (and possibly/hopefully others, as well):
1. Actress Rebel Wilson has
a new clothing line for Torrid
, which she describes as "deliberately youthful—not that you have to be that young to wear it, but you have to have a youthful energy."
2. [
Project Runway
Spoiler!] Plus-size fashion designer Ashley Nell Tipton made history when she won
Project Runway
last week! Not only is she herself
a fat woman
, but she designed a plus-size collection which was shown on the runway on plus-size models. And it was
STUNNING
. If you happened to watch this season, and you saw all the bullshit meangirl trash that was directed at Ashley, or the incessant underestimation of her right up until the last moments when she was announced the winner, that is
definitely on-topic
for this thread.
Anyway! As always, all subjects related to fat fashion are on topic, but if you want a topic for discussion: What sorts of clothes would you love to wear but can never find in plus sizes, because designers assume fat women won't want to wear those things, or
shouldn't
wear them?
Have at it in comments! Please remember to make fat women
of all sizes,
especially women who find themselves regularly sizing out of standard plus-size lines, welcome in this conversation, and pass no judgment on fat women who want to and/or feel obliged,
for any reason,
to
conform to beauty standards
. And please make sure if you're soliciting advice, you make it clear you're seeking suggestions—and please be considerate not to offer unsolicited advice. Sometimes people just need to complain and want solidarity, not solutions.