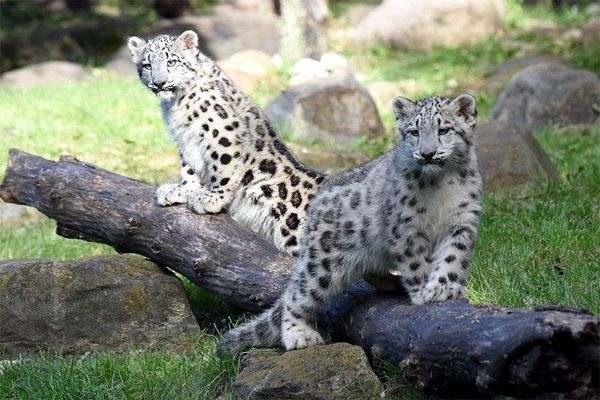 Two 4-month-old Snow Leopard sisters, named Malaya and Daania, made their public debut October 7 at Brookfield Zoo.

...The Chicago Zoological Society (CZS), which manages Brookfield Zoo, happily announced the birth of the two Snow Leopard cubs on June 16. Until now, the girls and their mom have been safe and secure in their behind-the-scenes den.

Mom, Sarani, and her five-year-old mate, Sabu, arrived at Brookfield Zoo in October 2011 from Tautphaus Park Zoo in Idaho Falls, Idaho, and Cape May County Park & Zoo in Cape May Court House, New Jersey, respectively. This is the second litter of cubs for the couple. Their pairing was based on a recommendation from the Association of Zoos and Aquariums' (AZA) Snow Leopard Species Survival Plan (SSP).

...A leading Snow Leopard conservation organization, the Snow Leopard Trust, estimates population numbers of this elusive cat to be between 4,000 and 6,500 remaining in the wild.
Via
ZooBorns
.
Gorgeous beasties! They say a leopard can't change its spots, but why would anyone want one to?!
*wink*