With Congressional Republicans in chaos after John Boehner's
ouster
, and the leading contender to succeed him as Speaker having
abruptly withdrawn
, and Paul Ryan saying he'll only take the position in
the incredibly unlikely event
that "he was the true consensus choice of the party. That means no opposition, no sniping, no acceding to demands in exchange for support," shit is getting reeeeeal desperate.
Last week, Fox Shitlord Sean Hannity opened the floodgates of a whole new angle of desperation
by asking
Newt Gingrich if he'd be willing to assume the role once again, with reference to a little-known rule that the Speaker doesn't have to be a sitting member of Congress.
Now a Republican Senator, Tom Cotton of Arkansas,
has suggested
that Dick Cheney would make a terrific Speaker: "Look, these are trying times for our nation. It's important to have a steady hand on the helm during times like this. I think experience really counts in a matter like this. I think House leadership experience really matters. And as you know the speaker doesn't have to be a member of the House: So therefore, Vice President Cheney for speaker."
Sure! Why not?!
I think we should all start making our nominations now! I nominate a Big Mouth Billy Bass wearing a flag lapel pin.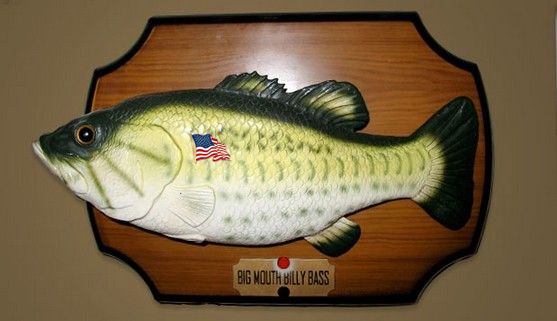 It's no worse than Paul Ryan and definitely better than Dick Cheney! Who do you nominate?