Shaker Gardens
is usually Aphra_Behn's beat, and there's a darn good reason for that—because I have the ungreenest thumb that has ever thumbed! But our lovely neighbor, who has enviable garden skills and an abundance of generosity, brought us some of the gorgeous yield from her garden, so Aphra consented to let me take over today so I could share a picture and invite you to share tales or pics of what's happening in your gardens during this season.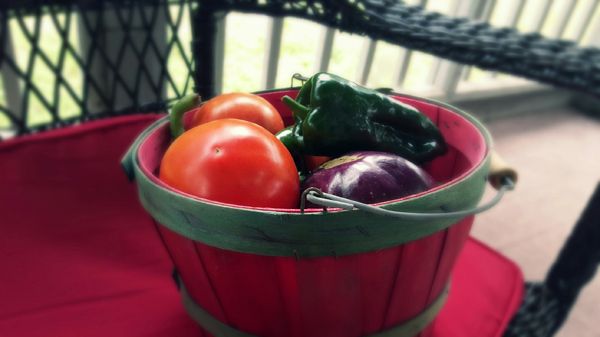 Mmmmmmmmmm veggies.
I love the fresh vegetables she brings us. She also brought us a bunch of cherry tomatoes, and they are beyond delicious. They taste like the essence of tomato and sunshine.
To quote Aphra: "How about you, Shakers? How does your garden grow? Please feel free to share your tales and trials. Whether your 'garden' is a pot on the windowsill or an acre in the country, post away! (And if you're in the Southern Hemisphere, please feel free to join in with whatever is appropriate to this season or past/future seasons!) As always, please respect that different gardeners have different goals and needs, whether those be saving money or water or space, gardening organically or with other goals, etc."