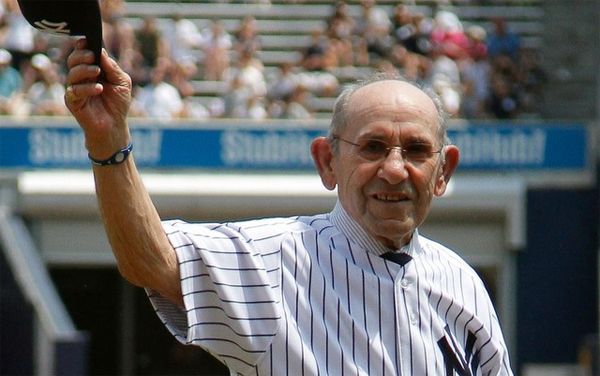 Baseball Hall of Famer Yogi Berra, a legendary catcher, owner of 10 World Series rings, folk sage, and namesake of the cartoon bear,
has died at age 90
. As they say, and never was it more appropriate: Good innings.
He retired after 2,120 major league games with a batting average of .285, and hit 358 home runs in his career. He played in more World Series games than any other Major League Baseball player, was a three-time American League Most Valuable Player, and was inducted into the Hall of Fame in 1972.

He won 10 World Series with the Yankees, and a further three after his playing career finished in coaching roles.

...Colleagues said Berra always maintained a sunny disposition. "There are probably a half a dozen people in the world that are universally loved. Everybody loves Yogi," former teammate Jim Bouton told the Boston Globe. "There's an essential sweetness about him. He's without guile. That's about as kind of a thing you can say about a human being. He's one of the great people in the world."

Berra, survived by three sons – Larry, Tim and Dale – as well as 11 grandchildren and one great-grandchild, was once asked by [his wife Carmen, whom he married in 1945]: "Yogi, you are from St. Louis, we live in New Jersey, and you played ball in New York. If you go before I do, where would you like me to have you buried?"

Berra replied: "I don't know, surprise me."
Even if you don't follow or like baseball, and even if you've never even heard Yogi Berra's name, there's a good chance that you've heard, and maybe even said yourself, one of the many "
Yogisms
" coined by Berra.
For instance: "It ain't over 'til it's over."
Or perhaps: "It's like déjà vu all over again."
Once, asked about his infamous propensity for such quotable observations, Berra replied: "I never said most of the things I said." That, too, would become an instant classic, and would later be referenced in the title of his
New York Times
bestselling book,
The Yogi Book: I Really Didn't Say Everything I Said.
His "Yogi-isms" were repeated by presidents, businessmen, celebrities and anyone else who wanted to sound wise, funny, folksy, or all three. ..."I don't know why I say these things," he once told Reuters. "But people understand me."
Yes. I loved the way Yogi Berra crafted (or didn't craft) the things he said, and I always understood him perfectly. He had an inimitably charming way with words, matched by his remarkable skill on the field.
My condolence to his family, friends, colleagues, and fans.
[
Note:
If there are less flattering things to be said about Berra, they have been excluded because I am unaware of them, not as the result of any deliberate intent to whitewash his life. Please feel welcome to comment on the entirety of his work and life in this thread.]