[Content Note: Privilege.]
This is a real
Vanity Fair
headline in the world: "
Why Late-Night Television Is Better than Ever
."
And this is the picture that accompanies the article, of the current crop of late night television hosts that are making late night television better than ever: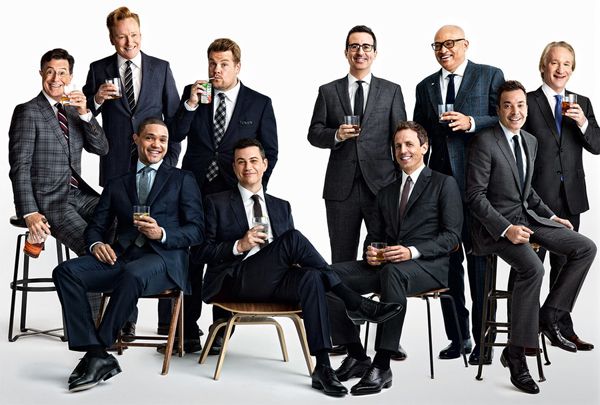 From left to right: White man Stephen Colbert, white man Conan O'Brien, black man Trevor Noah, white man James Corden, white man Jimmy Kimmel, white man John Oliver, white man Seth Meyers, black man Larry Wilmore, white man Jimmy Fallon, and white man Bill Maher.
BETTER THAN EVER!
Aside from Trevor Noah's new
Daily Show,
I have watched multiple episodes of each of these shows, and, with the exception of John Oliver, who is better that the rest but
by no means is putting on a safe show
, they are rife with the same old tired bullshit as always: Fat jokes, rape jokes, oppressive humor of every stripe (often under the guise of "irony").
Less "better than ever" than "same as it ever was."