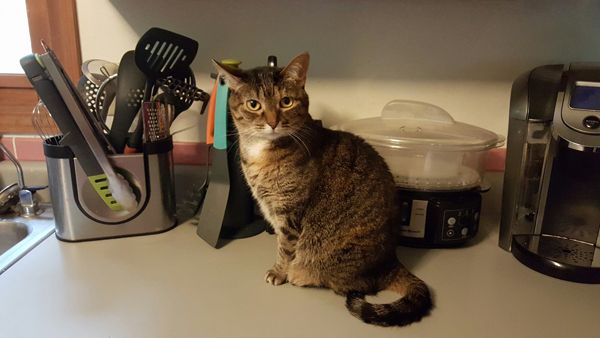 Sophie thinks she can get away with being naughty just because she's cute and tiny.
"Are you supposed to be on the counter?"
"What?"
"In all of your seven years, when have you ever been allowed to be on the counter?"
"This counter?"
"Get down."
"Come again?"
"Get down. Now."
"I'm sorry; I don't speak your language."
"Get down, or I'll get the sink sprayer."
"Oh DOWN? Off the COUNTER? Pardon me, apologies apologies, I thought you said something else. Yes, getting down off the counter right away. My mistake."
* * *
As always, please feel welcome and encouraged to share pix of the fuzzy, feathered, or scaled members of your family in comments.