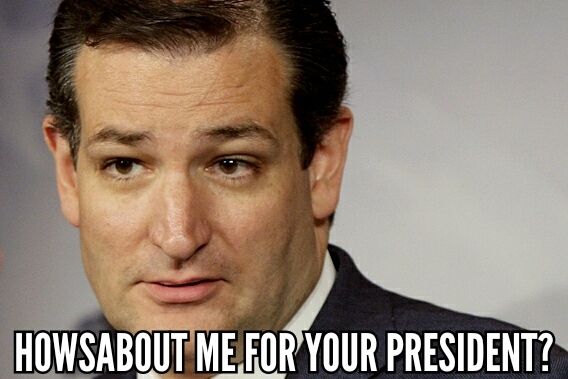 Nah.
Fresh off
the coolest speech
that was ever speechified, Republican Senator Ted Cruz
has announced he is running for president
:
Lest there be any doubts that Sen. Ted Cruz will be aggressively courting cultural conservatives, look at where the Republican chose to begin his 2016 presidential campaign Monday: the flagship campus of the nation's largest Christian university.

Cruz announced his White House bid early in the morning, on Twitter, hours before his kickoff speech at Liberty University, the college founded by the late Rev. Jerry Falwell. A familiar stop for presidential hopefuls, the selection is meant as a marker against potential rivals who are also counting on Christian conservatives to fuel their ambitions.

On Monday, became Cruz the first high-profile Republican to enter the 2016 contest officially even though, like others, he has been campaigning in all but name for many months. A man in a hurry, he got ahead of his announcement speech with a tweet after midnight and a flashy video previewing his campaign.

"I believe in America and her people, and I believe we can stand up and restore our promise," Cruz said in the web video as images of farm fields, city skylines and American landmarks and symbols played in the background. "It's going to take a new generation of courageous conservatives to help make America great again, and I'm ready to stand with you to lead the fight."
It's pretty sweet that he's making no bones about the fact that he doesn't want to lead "the American people," but definitely just wants to lead conservatives to take back the country from the terrifying grip of moderates and liberals. Fresh take!
Which reminds me of that time Senator Cruz
made a neat ha-ha joke
about how Washington, D.C., isn't actually part of the United States: "I spent all week in Washington, D.C., and it's great to be back in America."
This is just the perfect Republican candidate, right here: A professional politician who hates government; who makes his living from taxpayer dollars but hates taxation of the wealthy and corporations; who wants to be president of the country, but hates most of it.
Super.
[Related Reading:
Meet Senator Ted Cruz!
]