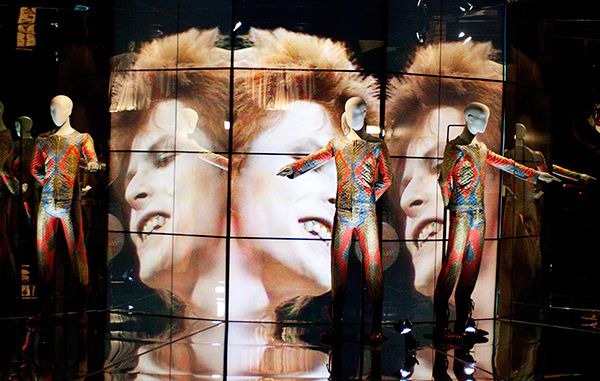 From "David Bowie Is": Bowie sings "Starman" on Top of the Pops
Yesterday, on the very last day of its run at Chicago's Museum of Contemporary Art, Iain and I—along with the Space Cowpokes, who were visiting from New Jersey—went to see "David Bowie Is," an extraordinary exhibit that documents Bowie's long and fascinating career.
(There is a great write-up
here
, if you want to read more about it.)
The exhibit itself, curated by Victoria Broackes and Geoffrey Marsh, is amazing—and the staff of the MCA did an excellent job working both the collection and the lines to get in, which were unbelievable.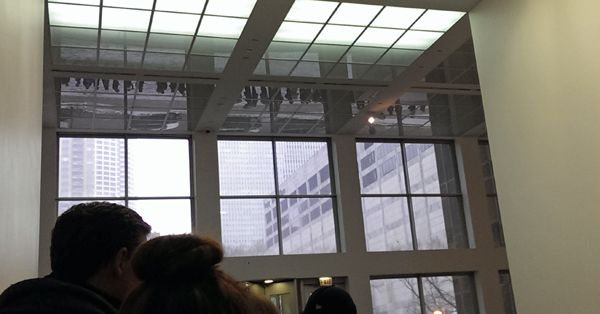 Above: An image of the reflection of the line outside yesterday, from inside the museum.
We first tried to get in on Friday, as part of the limited walk-up traffic since advanced tickets were sold out, but were thwarted by the impossibly long line, our need to get home to the dogs, and the shitty weather. Sunday, it happened. And holy shit was it ever worth the effort.
I'm a major Bowie-head anyway (seriously: I don't get up at 6am on a sleeting Sunday which is the last day of my vacation for just anyone), but this exhibit just made me an even bigger fan (which I did not believe was even possible). It was curated so spectacularly, giving visitors the chance to explore the history of his career, his work, his social and cultural influences, his creative process, and who he is as an artist.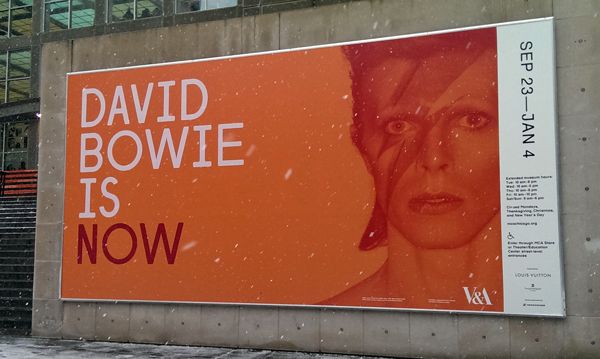 I'm still processing everything I saw—we spent an hour and a half in the exhibit, and I could have easily spent double that—but here are a few of my immediate takeaways, which I thought might be of interest.
* One of the things I've always thought about Bowie, also reinforced by the documentary "Five Years," which I highly recommend, is that he is an exceedingly generous artist. He prolifically credits his collaborators, and he explicitly writes lyrics that leave space for people to imbue their own meaning. He wants his music to belong to and be meaningful to a vast audience.
* He's a sponge. He draws influence from a vast array of people and places and things. One of the things I really loved about the exhibit was its emphasis on what influenced Bowie, not just on the influence he has had on the culture and other artists. There is a strong implicit commentary on how art is an ongoing story, and a cultural property that belongs to us all.
* Related to the above two ideas: Bowie has an admirable and inspirational quality of wanting to be part of something bigger than himself, which is defined in part by sharing credit and acknowledging influences. He clearly doesn't find it diminishes his own work, but enhances it, by not insistently centering himself and asserting sole proprietorship. Which is not to say he doesn't take deserved credit and ownership, too. I mean, the man's a millionaire because he does. It's just striking that he has found some sort of balance (probably imperfect) between being a star and being an artist.
* He has tried lots and lots and lots of things. And not all of them have worked. But he's willing to experiment. Publicly. Which means a willingness to fail. Publicly. And that's okay.
* There was an interesting video installation that featured part of an old BBC documentary on Bowie. The commentary on the then-burgeoning star was fairly contemptuous, including a haughty sniff about how most of his fans were "14-to-20-year-old girls." This is something that feminist and womanist cultural critics
still
observe—how a largely young female fan base is used to discredit the integrity and value of artists. This, despite the fact that, over and over, young women have "discovered" and launched the careers of dozens of influential men and women. Like David Bowie, who is now considered so culturally important that he has a globally renowned exhibit dedicated to his career, which tens of thousands of people have clamored to get into.
Young women (and especially young women of color, in many cases) are drivers of culture, but they were, 40 years ago, and are, still today, demeaned as a substandard and virtually laughable audience.
Well. Maybe we should reconsider that.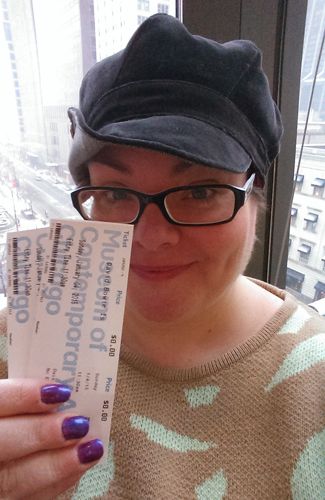 One very enthusiastic female David Bowie fan.