by Shaker sweetbyrd
[Content Note: Fat hatred; dehumanization.]
"Headless Fatty" is a term coined by Dr. Charlotte Cooper in
a piece entitled Headless Fatties
. In that piece, she comments on what is communicated to society by the media's depiction of fat people (especially women) without heads. Cooper writes:
As Headless Fatties, the body becomes symbolic: we are there but we have no voice, not even a mouth in a head, no brain, no thoughts or opinions. Instead we are reduced and dehumanised as symbols of cultural fear: the body, the belly, the arse, food. There's a symbolism, too, in the way that the people in these photographs have been beheaded. It's as though we have been punished for existing, our right to speak has been removed by a prurient gaze, our headless images accompany articles that assume a world without people like us would be a better world altogether...

Headless Fatties are a version of fat people, a never-ending parade of us, taken from us and then sold back to us, hatefully and with ignorance. They reek of a surveillance culture with which fat people – whose bodies are policed by glares, and disapproving looks – are all too familiar.
Emphasis my own.
One needn't conduct a vast search to find an image of the Headless Fatty. Just look at just about any news article dealing with "the obesity epidemic," or any news article at all, really, that deals with fat people in any sense—and you'll see an image of the Headless Fatty.
Stigmatizing images of fat people are virtually the only images of fat people available in the media
. (pdf)
I have known all of this for a long time. But what has gotten me all riled up today is the below image: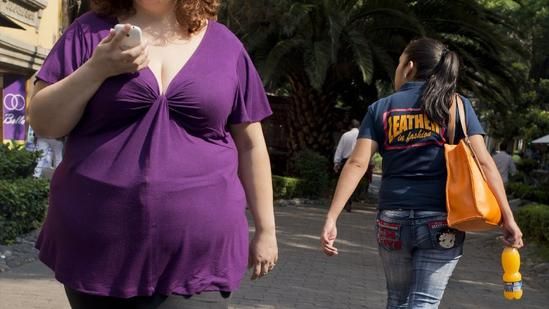 What makes this image particularly special is the contrast in depiction between the thin woman and the fat woman. You see, the thin woman is depicted neutrally. Most importantly, she has a head. Symbolically, that makes her a whole person. She has agency. The fat woman, though she takes up more space in the photograph, does not have agency. She is dehumanized and lacking capacity—without brains or even a head to carry them in. She certainly has no voice. She is an effigy of hatred.
The contrast between the fat woman and the thin woman could not possibly be clearer, and neither could the message—that one body is more worthy, more human, and generally worth
more than
the other.
And as a fat person, this presents a whole bundle of issues for me to navigate. Among them is the impulse to act like being policed, judged, othered, and dehumanized in this manner
doesn't hurt
. But you know what? Fuck that shit. This
hurts
.
Every time I see a headless fatty, I get another burst of awareness about what society really thinks of me. It doesn't matter how strong, accomplished, happy, or successful I am. Society thinks it would be better off if I—all 300-ish pounds of me—weren't a part of it. That is some kind of
eliminationist
crap right there. And who wouldn't be hurt by hearing something like that? But more than hurt, I'm angry. People of every size deserve better than this rhetorical bullshit nightmare—and we aren't getting it.
Please note that the article this image accompanies is an article in the
LA Times
entitled: "
When food's the reward, obese women's judgment fails them
." [donotlink] I'm not going to comment on the article, as that is a different (though related) ball of wax. But please feel free, as Liss would say, to have at it in the comments!