[Content Note: References to animal abuse.]
Via Shaker Kevin Wolf, who saw it at
Reshareable
, this video of two elephants being reunited after 22 years is amazing and beautiful and moving and all the words just watch the video (or read the below transcript):
Background:
Shirley is a 52-year-old elephant who languished alone at a Louisiana zoo for 22 after being rescued from a circus. Jenny is an approximately 23-year-old elephant who, as an infant, met Shirley at the circus before she was rescued and brought to The Elephant Sanctuary in Tennessee. This PBS video captures their meeting when Shirley is brought to The Elephant Sanctuary to live out the rest of her life.
Video Description:
Shirley arrives in a big white truck at the sanctuary, a lush piece of land spanning 2,700 acres and consisting of three separate and protected natural habitat environments for Asian and African elephants. A female narrator says Shirley's journey took fourteen hours across two states. Shirley's trunk creeps out of the open window, feeling the door latch, clearly ready to get out of the truck.
Shirley is brought into a big barn, with huge stalls separated by green metal gates. "This is like a palace," says Solomon, her handler from the zoo, a middle-aged black man. He gently removes a chain from her leg and sets it on the floor. He smiles at her.
Cameras film the scene. The narrator says: "The press stands by for Shirley's big moment." An elephant walks into another stall in the barn. Narrator: "Tara is the first to return to the barn. She'll be the first elephant Shirley has laid eyes on in over two decades. No one can predict how she'll react."
Shirley and Tara meet at the large, slatted gate. They reach out their trunks toward one another, and, as the people watching gasp with awe and joy, their trunks encircle each other. Tara reaches out her trunk to investigate Shirley's face. They nuzzle each other. Solomon watches with a bittersweet expression on his face.
Narrator: "Solomon can tell Shirley's going to be fine." Shirley lifts clean hay with her trunk and puts in in her mouth. Narrator: "But the time's come for him to do something he's been dreading: This will be the last time he bathes his old friend." Solomon sprays Shirley with a hose, as she munches contentedly. Solomon turns toward the camera, and says: "I believe she's gonna love it. I really do. Nice place. I'm gonna miss her." He chokes up; touches his face. "Man. Ah. She don't have to wear that chain anymore." He wipes his eyes. He touches her trunk; she lifts her foot and he pats it. "Take care of yourself, girl," he tells her, stroking her side.
With his hand resting on her side, Solomon says to the camera: "When I saw this place, I told her that there'd be no more chains." He shakes his head. "She's free now." He strokes her side, overwhelmed with emotion. "And I just thought: I don't know who was the first to put a chain on her, but I'm glad to know that I was the last to take it off." Cut to Shirley's leg, free of the chain. "She's free at last." Solomon hugs her trunk and feeds her hay. "I'm gonna miss you, Shirley." He strokes her trunk and gazes lovingly at her. "My big girl."
Cut to later in the day, at dusk. Narrator: "At nightfall, the last elephant, Jenny, returns to the barn. Trumpets and rumbles echo into the morning." Cut to the next morning, and Shirley and Jenny are standing on either side of one of the stall gates, cuddling each other and making happy noises. "Carol and Scott have never seen a reaction like this." The two elephants push against the gate and reach through it, trying to get to each other. "In their desperation to get closer throughout the night, Shirley and Jenny have bent the steel bars between them."
Scott, a middle-aged white man, opens the gate. Narrator: "Scott finally manages to pry open the gate, so Shirley can get through, and the reunion is complete." Shirley slowly walks through to be beside Jenny, and they rub against each other happily. "They say an elephant never forgets: Almost 25 years ago, the two were together in a circus. Jenny had just been brought from Asia, only an infant. Perhaps Shirley was her comfort and mother, in this strange new land." The elephants touch each other's faces with their trunks and bump up against one another. "These two old friends are the closest thing to family they will ever know."
Shirley and Jenny walk out of the barn, into the sunlight. A black and white dog trots out of their way. Narrator: "They are comrades; survivors in a captive world. With Jenny by her side, Shirley stands to face her future." The elephants walk side-by-side out into the sanctuary. "Home at last, they'll live out their days together." Cut to the elephants at a watering hole, splashing water on themselves and each other. One of them kicks water at the other. One of them lies down and lazily luxuriates at the water's edge, then stands, trumpets, and bumps her head against the other.
They lie in the grass. They walk side-by-side across an open area. They stand beside one another, their heads bumped together and their trunks entwined.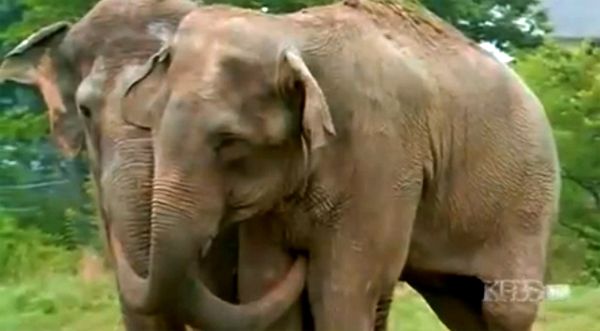 They caress each other, and then are seek walking beside each other across the sanctuary.