This is your semi-regular thread
in which fat women can share pix, make recommendations for clothes they love, ask questions of other fat women about where to locate certain plus-size items, share info about sales, talk about what jeans cut at what retailer best fits their body shapes, discuss how to accessorize neutral colored suits, share stories of going bare-armed for the first time, brag about a cool fashion moment, whatever.
Last weekend,
Ana Mardoll
and I had a conversation about Dressing Professionally While Fat. (Where "professionally" = wearing a suit.) There are lots of women's bodies—not just fat women's bodies—for which traditional suit cuts don't work. Or don't work without a lot of tailoring, which can be expensive.
(A lot of fat women who have to wear professional uniforms, for example, have similar experiences. Although they've usually got even less freedom to make their uniforms work for them. And many fat women who work in careers where "professional" attire isn't required will need to have some variation on "professional" clothes for job interviews, loan applications, etc.)
Short and fat? Get ready to pay to have your suit sleeves shortened if you don't want to look like a kid playing dress-up in your parent's clothes!
Ana mentioned (which I am sharing with her permission) that she'd just discovered the awesomeness of scarves, to help dress up a blouse, as an alternative to a suit. Which: YES! Yay scarves!
I also noted that I'm a big fan of cardigans, in lieu of a suit jacket. I especially love 3/4-sleeve cardigans, which prevent worry about the sleeves being too long.
One of the other good tricks I've learned for dressing up an otherwise more casual outfit is a nice stone necklace. By which I mean agate, for example, which is way more affordable than precious stones like diamonds.
If you have any kind of neck or back problems, a stone necklace can be heavy and thus not a workable solution, but glass beads can be a good alternative, as can fabric necklaces (like
this one
, for example), which are sort of the best of both scarf/jewelry worlds.
While some all-around stone necklaces work for me, some are too heavy, so I tend toward necklaces with detail up front and a chain around the back, which significantly lightens them. I purchased this on
Etsy
quite awhile ago for only $19.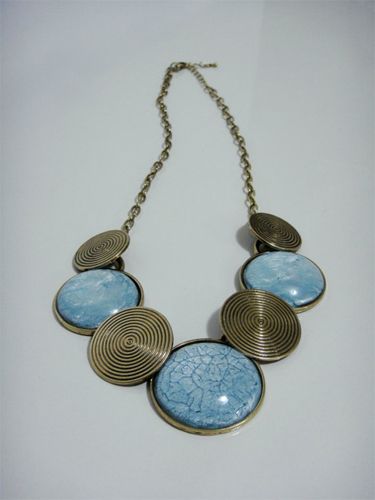 Note it also has an adjustable chain, so I am able to wear it with a variety of necklines, to get maximum use out of it.
A simple white tank with a black cardigan looks way more "dressed up" with this necklace.
So: What are your tricks for Dressing Professionally While Fat? Have you found suits that work for you? Do you use accessories? Tell us everything!