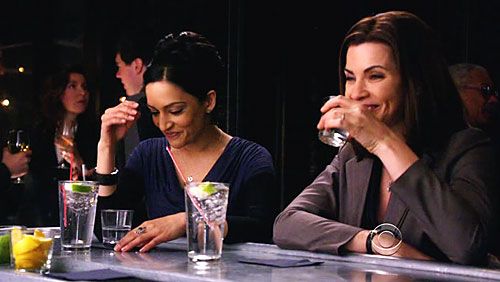 So, I recently started binge-watching
The Good Wife,
a show for which I've had many requests to do recaps, but which I haven't been able to accommodate, because I'd never seen the show.
I started watching a few weeks ago, and I just finished Season Three last night. It's like a good book I can't put down! Why didn't anyone tell me this show is very good?! (HA HA JUST KIDDING EVERYONE IN THE MULTIVERSE TOLD ME IT WAS VERY GOOD.)
Anyway. I give zero fucks about Peter OR Will. Fuck both those guys. I am, however,
totally invested
in Alicia's & Kalinda's friendship. I LOVE THEM!
The times
The Good Wife
makes me cry is always, ALWAYS, about Alicia and Kalinda. And sometimes Diane.
Diane's dirty laugh is a national treasure. And I want ALL of Kalinda's coats.
That is all.