Oh boy
:
[W]e need to get serious for a second because there is a sentence coming up after this colon that demands your full attention: NBC has ordered a script for a new procedural about a Boston private investigator who (a) is an angel and (b) can talk to animals.

Let's back up. One does not simply order a series about a heavenly private dick who can chit-chat with wildlife. It has to come from somewhere. In this case, that magical place is Thomas Sniegoski's Remy Chandler novels, which Deadline describes as a series "about an angel who, having grown weary of celestial warfare, chose to embrace earthly life and develop a deep appreciation for humans and their vices." And he's not just here deeply appreciating us and our vices, either. He's also fighting crime using his special angel powers, which include things like invisibility, mind reading, the ability to speak any language, and, as I mentioned once in the headline and twice in the text already, the ability to talk to animals. I don't see how this can possibly get any better.
Ohhhhh but I DO. Who has ALREADY successfully played an angel who "chose to embrace earthly life and develop a deep appreciation" for Meg Ryan and her terrible bike riding skills...?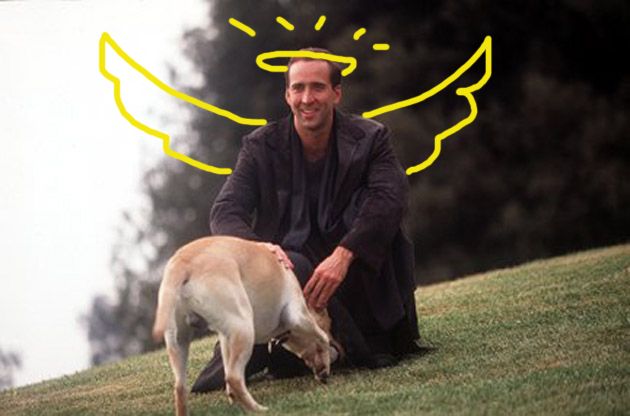 THIS GUY.
His former angel-man clearly had the ability to talk to animals, too. Or, at least appeal enough to dogs that they would sniff his bits, which is practically the same thing.
NBC, I promise this will be my new and forever favorite show, if only you convince Nicolas Cage to be its star. Let's make this happen.