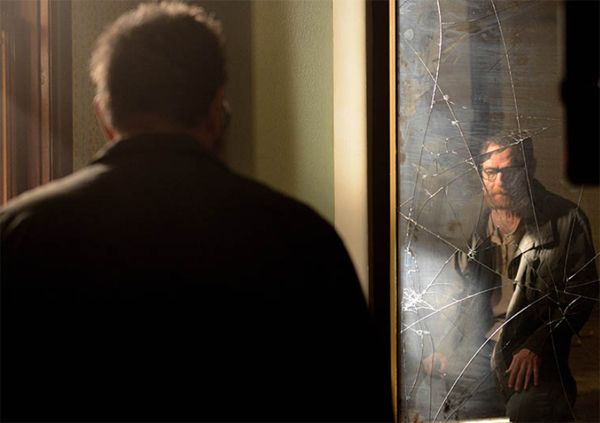 SYMBOLISM!
[Spoilers are running around in their underpants herein. Content Note for references to violence.]
After what felt like it would be an interminable wait,
Breaking Bad
finally returned last night with the second half of its final season. Eight episodes to wrap up this extraordinary, brutal, smart, difficult show, and give us some sort of resolution that will hopefully include Walter White getting his comeuppance because HE IS SO TERRIBLE. WALT, YOU ARE THE WORST!!!
When we last left terrible Walt and everyone he knows, his brother-in-law and DEA agent Hank, also known around these parts as HAAAAAAAAAAAAAAAAAAAANNNNNNK!!!, had, while taking a dump, discovered a copy of Walt Whitman's
Leaves of Grass
which had been inscribed from Gale to Walt, thus alerting Hank that Walt is Heisenberg, the mastermind behind the blue meth.
All great discoveries happen on the toilet! True fact!
Anyway. The episode started with another
Lost
ian flash-forward, in which Walt is visiting his boarded-up house and scares his neighbor, who drops her groceries. WHAT HAS HAPPENED TO HIS HOUSE? WHERE ARE SKYLAR? AND JUNIOR? AND THE BABY WHO DEFINITELY HAS A NAME BUT I CAN NEVER BE ARSED TO REMEMBER IT? ARE THEY SAFE? DID SOMEBODY KILL THEM? DID
WALT
KILL THEM?! WALT, YOU'D BETTER NOT HAVE KILLED THEM, YOU TERRIBLE NIGHTMARE OF HUMANITY!
But Walt
is
the danger
! Walt
is
the one who knocks
! Whatever happened to them, it's his fault, even if he didn't pull the trigger, figuratively or literally.
Green smoke and credits.
And then it's back to Hank sitting on the pot, literally having just discovered that Walt is terrible, and he quickly secrets the book in Marie's bag before rejoining the festivities on the back porch. I would like to commend Vince Gilligan on writing a PERFECT SCENE in which the book that reveals Walt's true identity is stolen in Marie's bag, after Marie has long been regarded as the criminal in the family for
shoplifting,
all while Walt is running an international drug cartel and murdering the fuck out of anyone who stands in his way. DO YOU UNDERSTAND HOW PERFECT THAT IS?! Vince Gilligan, you are a genius.
Unless someone else wrote that scene. In which case: Vince Gilligan, your team is full of geniuses!
Hank gets the fuck outta there, beating a hasty retreat with Marie, saying he's got an upset stomach, when really he's got A FRIED BRAIN, and he promptly gets into a car accident because he is overwhelmed with anxiety and anger and a whole flood of emotion that is drowning his melon pulp.
He's okay, though, and decides to work from home for a few days, much to Marie's quiet consternation. Some dudes from his office bring over all the Heisenberg Files, and Hank sets to work, and if any of us were about to scream at our televisions YOU HAD BETTER NOT BE LETTING WALT AWAY WITH THIS BY KILLING HANK WITH A STROKE, we didn't have to. At least not yet.
Meanwhile, Jesse is falling apart, smoking weed in his stupid mansion, with two bags full of $5 million in blood money lying around. He takes the money to Saul Goodman, Attorney at Law, and tells him to give half to Mike's granddaughter and half to the parents of the kid Todd murdered. And Saul does the only sensible thing (HA HA NOT THE SENSIBLE THING) and calls Walt and tells him Jesse's losing his shit.
So Walt goes to visit Jesse, and Jesse tells Walt he knows he killed Mike, because Walt never would have orchestrated the murder of Mike's minions in prison if Mike were still alive (YOU ARE SO SMART, JESSE! WHY DIDN'T YOU APPLY YOURSELF IN SCHOOL?), and Walt straight-up lies to Jesse right in his face, because Walt is THE WORST! He is SO TERRIBLE!
Something something Lydia visits Walt at the carwash because just when he thought he was out etc. I'm not skipping past that because it's boring, but because I want to get to the most important part of the scene at the carwash, which is Walt talking to Skylar before Lydia shows up about buying a second carwash to launder more money, and Skylar is all "OOH YES I LIKE THAT LOCATION!" and it gives us this brief flash of insight into her character, and how she is, in her own way, kind of in the empire business.
Just
like Walt
.
So when Skylar runs out and tells Lydia to go the fuck away and never show her face in these parts again, it's not
just
that Skylar doesn't want her family in danger again; it's also that Skylar doesn't want her emergent empire getting derailed.
There's a reason that Skylar married and stayed with a frustrated and bitter man who felt he had been cheated out of the fortune to which he was entitled. And there's a reason that Skylar is trying to make it work with him once again, now that he's out and their kids are ostensibly safe. Walt was always in the empire business, long before he had an empire, and that's a pretty comfortable place for Skylar, even after everything. Or at least a
familiar
one.
The thing is, Walt was pretty terrible to Skylar even before he was terrible to everyone else. In Season One, he nearly raped her in their kitchen. The "normal" inside their relationship was always fucked up.
Anyway! Speaking of fucked up, Jesse is sleeping in his car when a homeless man approaches him, and Jesse gives him a stack of bills. Which feels freeing, maybe? It makes Jesse feel
something,
which is more than he felt the moment before, so he drives through a poor part of town throwing money out the window.
Some of this money will be used to buy meth. There's no way for Jesse to
really
detach himself from it. Which is not something in the show, but just something for us to think about together!
Meanwhile, Walt, whose cancer has returned, is throwing up from chemo in his toilet when he notices
Leaves of Grass
has gone missing. He looks around for it before bed, but can't find it. And then he can't sleep. So, in his underpants once again—huzzah for the return of the tighty whities!—he feels around underneath his car and discovers a GPS tracking device.
SHIT!
In the final scene of the episode, WHICH WAS SO FUCKING INTENSE, Walt goes to visit Hank, and at first it's just awkward and Walt is trying to pretend like nothing's up, but Hank's version of a poker face is pretty much an "everything I feel is on my face right now" kind of face, so Walt decides to confront him and whips out the tracking device. HOLY SHIT!!! And then Hank closes the garage door, right behind Walt's back and PUNCHES WALT IN THE FACE OMFG YESSSSSSS!!!
HAAAAAAAAAAAAAAAAAAAANNNNNNK!!!
And Hank is SO MAD and SO SAD and FEELING ALL THE THINGS, and he yells at Walt, and Walt tries to weep his way out of it by saying his cancer is back and he's going to die and he'll never even see the inside of a cell, and Hank is all GOOD I CAN'T WAIT FOR YOU TO DIE, and Walt still gives the pity strategy one more try, but then Hank says, "I don't even know you," and Walt WHO IS SO TERRIBLE HE IS THE WOOOOOORST says in this bone-chilling voice, "If you really don't know who I am, then you should tread lightly."
AHHHHHHHHHHHHHHHHHHHHHHHHHHH!!!
And I don't even know what is going to happen next, but I am PRETTY CERTAIN that it will have something to do with Walt being terrible.