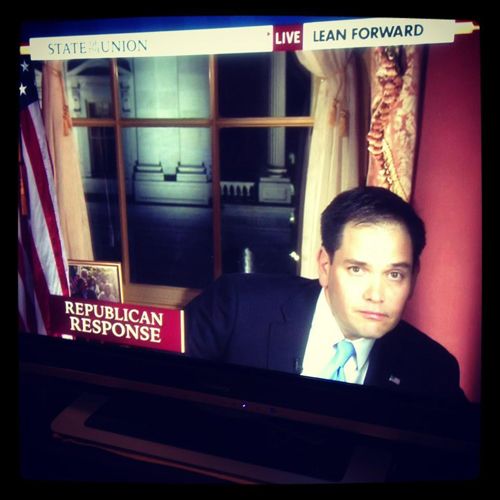 Republican Senator Marco Rubio was tasked with giving the GOP SOTU rebuttal last night (transcript
here
), and, as you may have heard ON THE ENTIRE INTERNET, he had a super awkward moment in which he lunged nearly offscreen for a bottle of water.
Immediately after, Jessica (
scATX
) texted me the above picture she took, which I am sharing with her permission, which is somehow a million times more hilarious to me than a regular old screencap. I laughed until I was crying.
Anyway. I feel for the guy. I always get cottonmouth when I speak, and I always need to have water nearby. It's not that he needed water. Dude's human. As I
noted on Twitter
last night, it was only so brutally and amusingly awkward because he and/or his GOP handlers had failed to put the water in easy reach. More excellence in GOP planning!
As for the content of his rebuttal, it was total garbage. Obviously.