Democratic Senator from Hawaii Daniel Inouye, who was a decorated World War II combat veteran, the first the first Japanese American elected to the US Congress, a fervent advocate for his home state, a key figure in the Watergate and Iran-Contra investigations, and the second longest serving senator in history, died yesterday at age 88.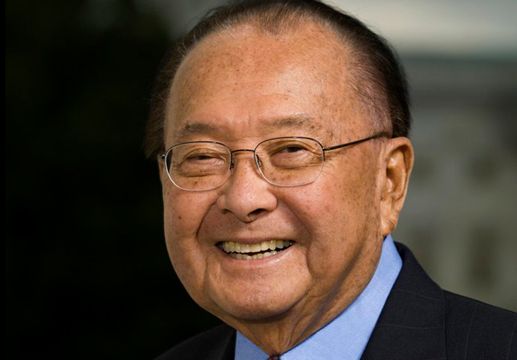 He has been in the Senate for so long, I can't imagine it without him.
Senators of both parties took to the chamber floor Monday to mourn his death, and President Barack Obama described Inouye as "a true American hero."

"In Washington, he worked to strengthen our military, forge bipartisan consensus, and hold those of us in government accountable to the people we were elected to serve," Obama said in a statement. "But it was his incredible bravery during World War II -- including one heroic effort that cost him his arm but earned him the Medal of Honor -- that made Danny not just a colleague and a mentor, but someone revered by all of us lucky enough to know him. Our thoughts and prayers are with the Inouye family."

Vice President Joe Biden, who served alongside Inouye in the Senate, recalled his "moral bravery" in the body. "He was one of the most honorable men I ever met in my life, and one of the best friends you could hope for. He was honest, and fiercely loyal, and I trusted him absolutely."

Fellow Hawaiian Daniel Akaka choked up as he said, "It is very difficult for me to rise today with a heavy heart to bid aloha, aloha to my good friend, colleague and brother.

"Tomorrow will be the first day since Hawaii became a state in 1959 that Dan Inouye will not be representing us in Congress. Every child born in Hawaii will learn of Dan Inouye, a man who changed the islands forever." [CNN.]
It can't be overstated how important Inouye's election and continued presence in Congress was for Hawaii. Not only because he was a maestro at earmarking money for his home state, but also because he became an Asian American leader for the islands at a time when Hawaii's populations of color had been disempowered by a white ruling class. His visibility—and his championing of
the Apology Resolution
—was crucial for native Hawaiians (although nationalist Hawaiians have objections to the Resolution, so it was not universally well received).
According to his office, Inouye's last word was "Aloha."
The
New York Times'
obit is
here
. The
Washington Post'
s obit is
here
.
[
Note:
If there are less flattering things to be said about Inouye, they have been excluded because I am unaware of them, not as the result of any deliberate intent to whitewash his life. Please feel welcome to comment on the entirety of his work and life in this thread.]