Bic Cristal for Her pens: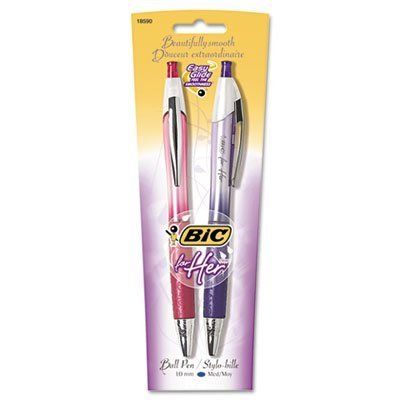 Finally! Ladies, our long national nightmare is over. SCIENCE has finally produced a pen for US! A pen that takes into consideration the special necessities of Writing While Woman and accommodates them by being pink! OR PURPLE.
If you're willing to settle for a slightly less nice pen in the Bic Cristal for Her collection, you can also get one in
a delicate pastel green or orange
which won't offend fragile lady-eyes like the rough greys and navy blues of man-pens.
They are very highly rated at Amazon! You should definitely read
some of the great reviews
they're getting!
And they've got
Ellen Degeneres' endorsement
, too!
I don't know about you, but I can't wait to buy A MILLION!
[H/T to everyone in the multiverse, and thanks to each and every one of you.]