[Content Note: Humorous reference to violence.]
Liss: I love your new Gangnam Style tattoo.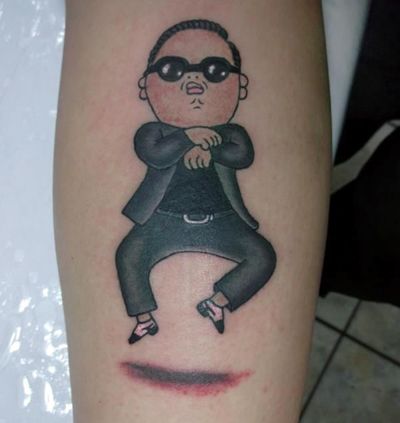 Deeks: Buy a machete and chop my leg off, please.
Liss: I hope you're not implying your leg has been sullied by your beautiful new and totally not regrettable Gangnam Style tattoo.
Deeks: That is exactly what I am implying!
Liss: Maybe you want me to cut it off to preserve it forever in a vat of formaldehyde? That would make sense!
Deeks: LOLOLOL
Liss: But I think you should enjoy it a little first.
Deeks: Yes. It should be in a museum.
Liss: The Smithsonian, probably.
Deeks: Just knowing I was one of the first 100 dildobrainz to get a Gangnam Style tattoo is enough.
Liss: You're a hero.
Deeks: The best thing is by January no one is going to know what that tattoo is supposed to be.
Liss: I know lol. It's like having a tattoo of the dipshits who sang Macarena. Or Lou Bega. The good news is that it goes great with your Right Said Fred tattoo.
Deeks: "Who is that tattoo supposed to be—Eddie Murphy?" "How dare you! It's Bobby McFerrin!"
Liss: "Don't you know a goddamn
Calloway
tat when you see one?! I GUESS YOU DON'T WANNA BE RICH!"
Deeks: LOLOLOL! Good lord, I forgot all about that guy!
Liss: Well, that's exactly why I got a tattoo of him. TO IMMORTALIZE HIM. Never forget!
Deeks: CALLOWAY WILL LIVE FOREVER IN OUR HEARTS!
Liss: My Calloway tattoo is right next to my Eifel 65 scarification.
Deeks: I don't even know what Eifel 65 is.
Liss: Oh yes you do!

Video Description: A terrible one-hit wonder by the group Eifel 65.
Deeks: I hate you.
Liss: Btw, I can never remember Bon Iver's name, so I just called them Blee Bloingo in a conversation with Kenny Blogginz.
Deeks: Close enough.