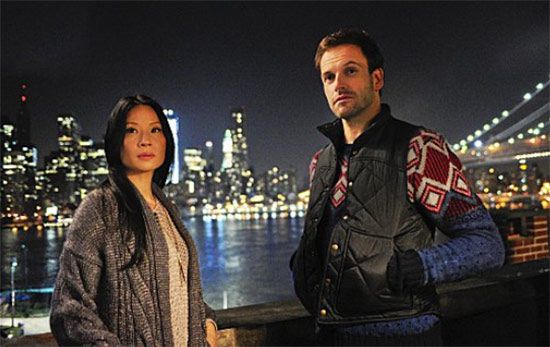 Does anyone else want to talk about
Elementary
? Let's talk about
Elementary
!
The newest iteration of the Sherlock Holmes franchise, starring Lucy Liu as Watson and Jonny Lee Miller as Holmes, has aired two episodes so far, and I liked them a lot!
Now, I would pay to watch Lucy Liu read the
phone book
instructions on how to activate your Bluetooth to call information, and Jonny Lee Miller is
Sick Boy
, hello, so I was already VERY EXCITED about this show before I watched it, and I was pleased to discover it is VERY GOOD.
And I bet you will be AMAZED to hear that the world did not SPIN OFF ITS VERY AXIS, nor have there been any reported plagues of locusts, nor did my head EXPLODE AT THE SIGHT of an Asian American woman playing a character that is WHITE and MALE in CANON!
(Note: I'm pretty sure the same results would have occurred if Liu had been cast as Sherlock. Gasp, etc. To the fainting couches.)
Iain, who is a huge Sherlock fan and also British so thus EXTRA CREDIBLE lulz, also really likes it. As we excitedly watched both episodes back-to-back, snuggled up under a big comforter, he declared that he likes it even more than the Benedict Cumberbatch-Martin Freeman version. I said, "We like it so much it's sure to be canceled instantly!"
SO LET'S ENJOY IT WHILE WE CAN!