So we can leave
this thread
dedicated to President Obama's speech, here's a space to discuss the other goings-on at the DNC last night. Some of my favorite moments:
Video Description: Rep. Gabby Giffords takes the stage, accompanied by Democratic National Committee Chairwoman Debbie Wasserman Schultz, to lead the Pledge of Allegiance. The audience goes absolutely wild. Her speech is still a bit slurred, and her right side still has some weakness, but she has made a remarkable recovery. So much blub.
Also! Former Republican Governor of Florida Charlie Crist rivals BrianWS in eyebrow acting [
via
]: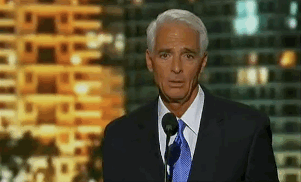 Thanks to Eastsidekate for the heads-up on that one. And thanks to
Jessica
for the heads-up on this: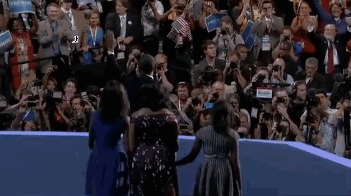 Well, that's pretty much the cutest thing ever. Wrap it up! We're done here.