[Content Note: Rape culture.]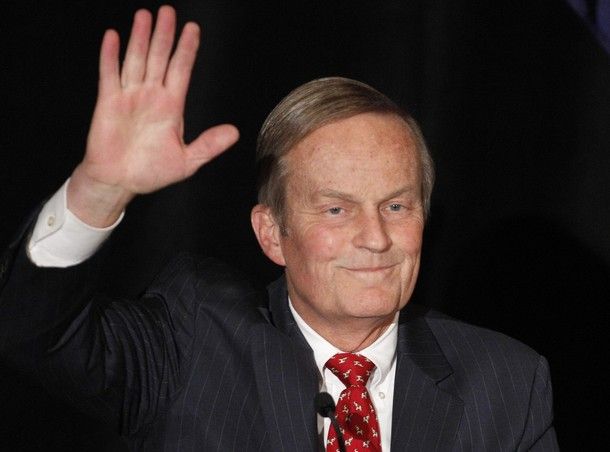 "Hi! I'm a d-bag!"
Here's the latest from the ongoing saga of Republican Congressman Todd "Legitimate Rape" Akin and his quest to become Missouri's Senator in spite of being thrown under the bus by his party who want to misrepresent his garbage rape apology as an aberration within the party to mask the grotesque reality of their extremist survivor-hostile anti-abortion agenda:
I dropped this into comments yesterday, but, in case you missed it—
Bryan Fischer Says Todd Akin is Like a Victim of Rape
: "After likening the backlash to Todd Akin's comments on 'legitimate rape' to the Pharisees' persecution of Jesus, American Family Association spokesman Bryan Fischer is now comparing Akin to a victim of rape. After listing the growing chorus of conservative activists and media personalities who have called on Akin to quit the senate race, Fischer lamented that 'everybody is gang tackling Todd Akin.' 'You talk about a forcible situation, you talk about somebody being a victim of forcible assault, that would be Todd Akin,' Fischer maintained."
Other survivors of actual rape are obviously having a spectrum of responses to this onslaught of reprehensible horseshit, but, as for me, all I can do is laugh contemptuously at this point.
Igor Volsky at Think Progress—
Akin Clarifies 'Legitimate Rape' Comments: Women Make 'False Claims' About Being Raped
: "Arguing that he misplaced the word 'legitimate,' Akin explained, during a follow up interview with Dana Loesch, that he meant to argue that women sometimes lie about being raped. ... Since he first made the comments over the weekend, Akin claimed that he meant to say 'forcible,' rather than 'legitimate' rape."
Thank you, Rep. Akin, for plainly stating what we all knew anyway—that "forcible rape" was a euphemism for "real rape," i.e. the kind that bitches don't invent in their vindictive little ladybrains to ruin the lives of decent men.
Would that we lived in the fantasy world of men who believe, despite all evidence to the contrary, that rape only exists in the imaginations of horrible women.
Taegan Goddard at Political Wire—
Ryan Called Akin to Get Him to Drop Race
: "Rep. Todd Akin (R-MO) told NBC News that he received a call from vice presidential candidate Paul Ryan asking him to step down from the Missouri Senate race. Said Akin: 'He advised me that it would be good for me to step down. I told him that I was going to be looking at this very seriously, trying to weigh all the different points on this. It's not about me. It's about doing the right thing and standing on principle.'"
Principles like: Rape is rare, women are lying bitches, and forcing a person with a uterus to use hir body for nonconsensual sexual activity is terrible but forcing a person with a uterus to use hir body for nonconsensual pregnancy and childbirth is a moral imperative.
Meredith Shiner for
Roll Call
—
Todd Akin Staying Put, as Top Missouri Republicans Tell Him to Exit
: "Rep. Todd Akin said he is staying in the Missouri Senate race despite the national firestorm sparked by his controversial comments about rape and calls from the Republican Party establishment in his own state for him to step aside."
Lisa Mascaro and Kim Geiger for the
LA Times
—
Todd Akin Touts Support from Crusader Who Espoused Theories on Rape
: "Missouri Republican Todd Akin's troubled Senate campaign blasted out a letter of support Tuesday from the antiabortion crusader who promoted the theory that victims of rape do not usually become pregnant. Akin's decision to release the letter from Dr. Jack Willke, founder of the International Right to Life Federation, sends a mixed message from the GOP congressman, who has apologized repeatedly for having said 'legitimate rape' rarely leads to pregnancy." A mixed message! LOL! How very polite!
And in related news: The editors of the
New York Times
opine on
What the GOP Platform Represents
: "The Republican Party has moved so far to the right that the extreme is now the mainstream. The mean-spirited and intolerant platform represents the face of Republican politics in 2012. And unless he makes changes, it is the current face of the shape-shifting Mitt Romney. The [draft of the Republican platform circulating ahead of the convention in Tampa, Florida] is more aggressive in its opposition to women's reproductive rights and to gay rights than any in memory."
Gross. The Republican Party is just so. fucking. gross.
I am not surprised by their ever more cavernous lack of decency, but I am certainly appalled.