GOOD MORNING! Has your enthusiasm returned to MAXIMUM LEVELS now that
Mitt Romney
has made the EXCITING announcement that his running mate is horrible bootstrap monster Paul Ryan?! I HOPE SO! If you are running on MAX ENTHUSIASM, please check this box: □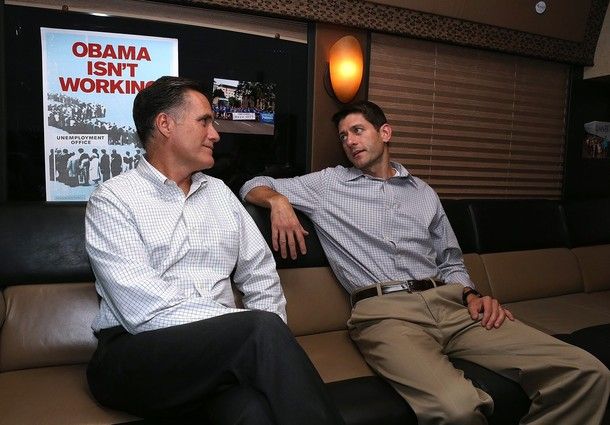 "Obama isn't working"—but these two gold-plated dipshits
lounging on the jewel-encrusted Romnibus definitely are.
Y'all, I have already started the most amazing Ro-Ry slashfic. It's called
50 Shades of Whooooooooops for America.
It's so hot.
In the news today...
Paul Ryan
's wife,
Meg
Janna Ryan,
says
that her husband "is someone who goes with the flow and has one of the sunniest demeanors and most positive outlooks of anyone I've ever met." Cool. He sounds just like Ronald Reagan, and we all know how great HE was for the country!
Mitt Romney
says
he loves Paul Ryan's nightmare budget and definitely would have signed it and sealed it with the sweetest kisses. So don't worry, America—Mitt Romney is only getting MORE terrible!
Ro-Ry
will
totally destroy the shit outta Medicare. Obviously.
President Obama
says
Paul Ryan "is a decent man, he is a family man, he is an articulate spokesman for Governor Romney's vision, but it is a vision that I fundamentally disagree with." Because it's garbage.
And other stuff. But, basically, what you need to know is: Mitt Romney is terrible and he picked a terrible running mate, and, in the year of our lord Jesus Jones two-thousand and twelve, the "Big Tent" of the Republican Party is running a ticket with two straight, white, cis, thin, tall, traditionally handsome, dark-haired men who have straight, white, cis, thin, traditionally pretty, blonde wives.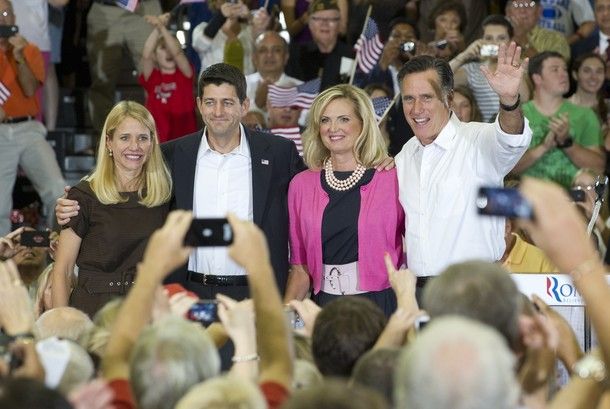 "Kyriarchetypes," by Rorman Nockwell.
The Republican Party has nothing—
nothing
—to offer working USians except an aspirational image of what they
could
be if only they work those bootstraps, an image that references a "
Golden Era
" that recasts bigotry as tradition, an image that is an oppressive lie.
The Romney-Ryan ticket is an illusion, a promise that will never be fulfilled. They are the carrot at the end of a stick being dangled by the plutocrats who run the Republican Party, to keep the plebs chasing
the bullshit promise
of the American Dream forever and ever and ever, while it is moved ever further out of their reach.
Talk about these things! Or don't. Whatever makes you happy. Life is short.