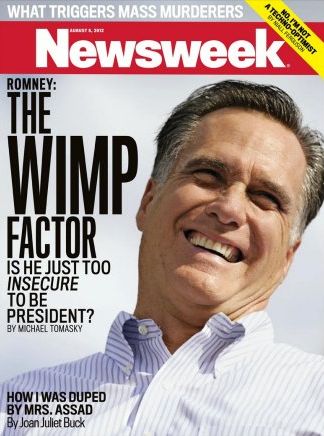 That's the actual cover of
Newsweek
's latest edition, and
the cover story
by Michael Tomasky, whom I usually really like, is an appalling mess of retrofuck sneering at Romney for insufficient compliance with traditional definitions of masculinity. Truly, when you are mocking a dude for riding on the back of a jet ski captained by his wife in the year of our lord Jesus Jones two thousand and twelve, you have
lost the plot.
Apart from the tiresome sexism, the piece gets it precisely wrong about the source of Romney's social ineptitude, unprincipled opportunism, and evident desire "to sneak into the White House through a side door, without having to do any of the difficult and controversial things candidates have to do." It's not that he's a wimp. It's that he's an entitled beneficiary of political nepotism with undiluted privilege.
It's that he's
a bully,
who's never known meaningful accountability.
And it's really too bad that Tomasky missed an opportunity to seriously explore what it means when we elect bullies who resist accountability to lead the nation, and instead wasted precious space with a snide schoolyard taunt of his own.