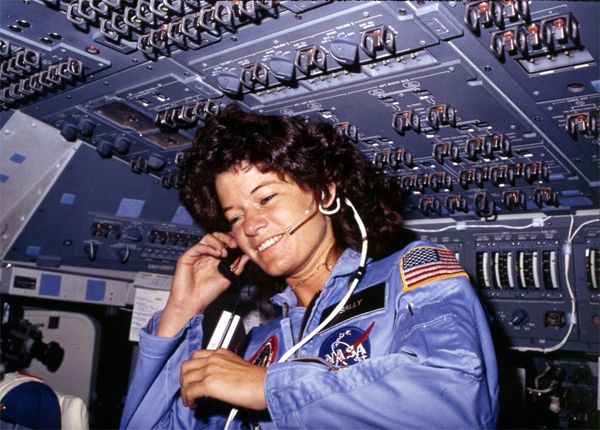 Sally Ride, who in 1983 became the first US woman in space on a journey aboard the Challenger,
has died
at age 61 from pancreatic cancer.
In 1983, Sally Ride became the first American woman in space. She blasted off aboard Challenger, culminating a long journey that started in 1977 when the Ph.D candidate answered an ad seeking astronauts for NASA missions.

...According to her official biography, by the time Ride decided to apply to become an astronaut, she had already received degrees in physics and English and was on her way to a Ph.D in physics from Stanford University.

According to her NASA biography, Ride went back into space in October of 1984. She was assigned to another mission after that, but it was scrapped after the shuttle Challenger disaster in 1986.

Ride served on the Presidential Commission investigating the accident. After a stint as a professor of physics at the University of California San Diego, Ride founded Sally Ride Science. As NASA puts it, the company allowed her to "pursue her long-time passion of motivating girls and young women to pursue careers in science, math and technology."
In the President's official statement on Ride's passing, he said, "She inspired generations of young girls to reach for the stars." She did indeed.
[
Note:
If there are less flattering things to be said about Ride, they have been excluded because I am unaware of them, not as the result of any deliberate intent to whitewash her life. Please feel welcome to comment on the entirety of her work and life in this thread.]