[Content Note: Rape culture.]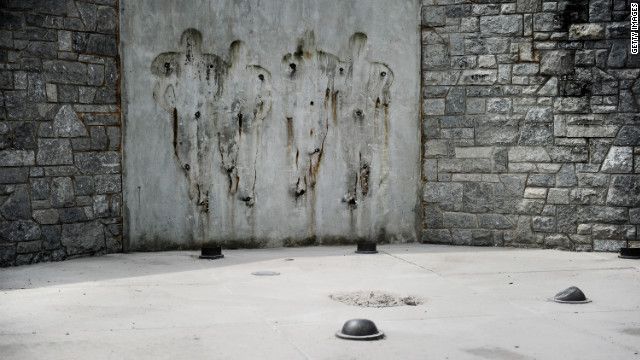 The empty place where the statues of Penn State football coach and rape abettor Joe Paterno and four football players used to stand. Penn State decided to remove the statue. Photo via CNN.
Naturally, Paterno's family, who just can't seem to STFU, are moaning about Penn State's terrible decision,
declaring in a statement
: "Tearing down the statue of Joe Paterno does not serve the victims of Jerry Sandusky's horrible crimes or help heal the Penn State community. We believe the only way to help the victims is to uncover the full truth."
You know what? I think the Paterno family needs to get out of the "helping Sandusky's victims" business. By which, of course, I mean the "totally ignoring the safety and needs of Sandusky's victims in order to protect Joe Paterno's legacy" business.
Their insistent statements purporting to care about and know what's best for Sandusky's victims is an increasingly gross and shameful display. Apparently the exploitative rape apologist apple doesn't far fall from the exploitative rape apologist tree.
In other news, the NCAA is expected to levy "significant, unprecedented penalties" against Penn State today, which may include fines as much as $30 million. [See update at end of post.]
Some will argue that amount is excessive. Some will argue it's inadequate. The arguments will help everyone ignore that the only question that matters isn't being asked: Has Penn State learned to shine light on evidence of sexual abuse, or merely learned to bury it even more deeply?
UPDATE:
The numbers
are in
, and: "The NCAA took unprecedented actions against Penn State on Monday in response to the Jerry Sandusky child sexual molestation scandal, fining the school $60 million, cutting scholarships for four years, imposing a four-year postseason ban and vacating all wins from 1998-2011. Vacating the wins means the late Joe Paterno no longer is the winningest major college football coach in history."
The fine, which is reportedly the equivalent of a single year of gross revenue from the football program, "will be used to establish an endowment to help child sexual abuse victims."