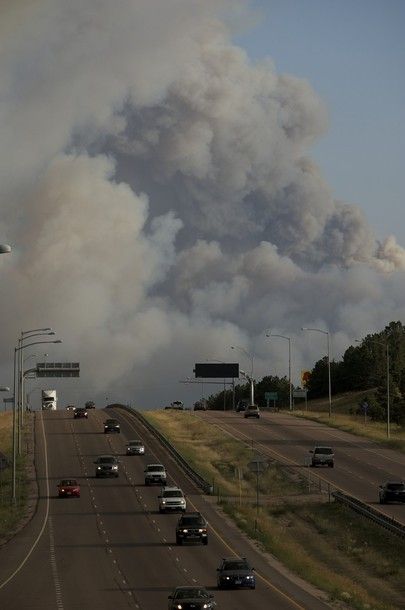 A plume of smoke is seen over Interstate 25 as the Waldo Canyon wildfire moved into subdivisions and destroyed homes in Colorado Springs, Colo. , on Tuesday, June 26, 2012. [AP Photo]
The Colorado Springs' Waldo Canyon wildfire, which started over the weekend,
doubled in size overnight
, forcing nearly 30,000 people from their homes. Still only about 5% of the fire has been contained.
My thoughts are with Shakers who live and/or have loved ones in the affected areas. It seems coarse to wish that you and your loved ones are all okay, when we know that there are people who are not okay, but there it is. I am hoping you are among the people who are physically unhurt, and you have my profound compassion and sympathy for the hurt and fear you are all certainly feeling.
The
American Red Cross
is providing temporary shelters and
other critical help
to those who have been forced to evacuate. They are in need of donations, which can be made via their website, via phone at 1.800.RED.CROSS, or via text: Text "REDCROSS" to 90999 to make a $10 donation.
Also: There will be so many pets and livestock in need of help, shelter, medical aid, food, and protection in the wake of such devastating fires. Please consider making
a donation
to the
Colorado Humane Society & SPCA
, or other rescue organization. If you live in the area, they will also be desperate for foster homes for rescued animals, so please consider volunteering if you can.
As always, please feel welcome and encouraged to leave other ideas for teaspooning opportunities in comments.