[Content Note: Transphobic language; Miss USA spoilers.]
So, last night, Iain and Kenny Blogginz and I are hanging out and we're watching the Miss USA pageant, because the entire thing is absolutely mystifying to all of us. We're only kind of half paying attention as we're chit-chatting and trying to smile for two straight minutes without our faces hurting, and then something interesting happened: Olivia Culpo, Miss Rhode Island, drew the Twitter question during the final round of judges' questions.
"Would you feel it would be fair that a transgender woman wins the Miss USA title over a natural-born woman?" Rob Kardashian asked her.
Now, mind you, I hate this question. I hate that it uses the loaded term "natural-born woman" and I hate that it's questioning "fairness" rather than justness. Still, I waited with held breath and, if I'm honest, the expectation of a trainwreck. The
dread.
Miss Rhode Island took a moment. She looked concerned. She knew she was about to offend some people. And then she said: "I do think that that would be fair. I can understand that people would be a little apprehensive to take that road because there is a tradition of natural-born women, but today where there are so many surgeries, and so many people out there who have a need to change for a happier life—I do accept that because I believe it's a free country."
Tradition isn't a reason to uphold bigotry. Hey, lots of contestants get surgeries of one kind or another. Equality is part of a happy life. This is a free country, so of course it's fair to let trans women compete.
That's a lot of good ideas to squeeze into one short answer!
Hosts Andy Cohen and Giuliana Rancic declared that Culpo "nailed it!" And then, a few minutes later, she won the whole damn thing.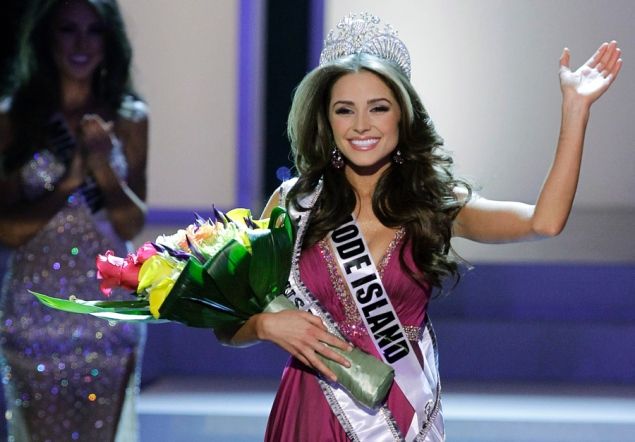 Earlier in the competition, pageant officials asked Culpo for her definition of beauty. "Beauty is found in the way you treat others,"
she said
. Indeed so.