[Content Note: Fat hatred; racism; misogyny.]
Coming not a month after their last
profoundly contemptuous cover
,
Newsweek
offers this charming cover image this week [via
@scATX
]: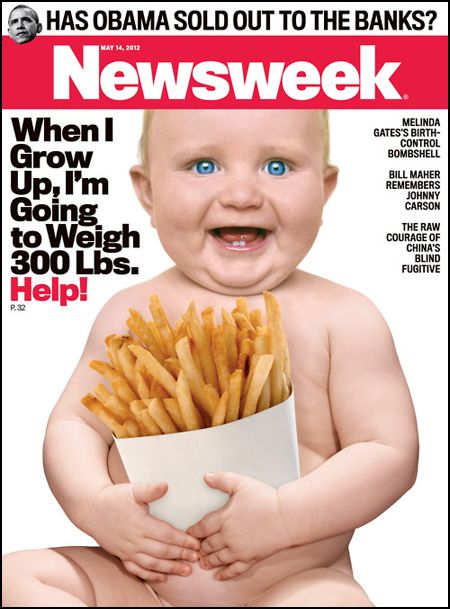 The
description of the cover
from
Newsweek
's Tumblr:
Obesity. Making American children more snuggly since 1972.

This week's cover features this blue-eyed little angel warning us of America's coming obesity crisis. We're fat, she's (he?) saying, and we're only getting fatter. So why is she on our cover? A new four-part HBO documentary (premiering next Monday and Tuesday) called "The Weight of the Nation" warns that the coming generation of Americans could even have shorter lifespans than the previous one. In Newsweek, Gary Taubes, author of "Why We Get Fat: And What to Do About It," takes a critical look at the film, and writes about the greater issue of obesity in America.
There is
a lot
to unpack about this image and the accompanying frames about fatness, and I'm going to let you have at it in comments. I just want to point out the assumption that the baby is female and the pointed note that "she" is a "blue-eyed angel," in order that we may be
extra
worried about the possibility that she will grow up to be a fat white lady who fails to fulfill her primary purpose as privileged sex object for straight men.
Sure, sayeth
Newsweek,
it's terrible when white dudes and people of color are fat because gross I MEAN HEALTH, but it's a GODDAMNED TRAGEDY when a nice blue-eyed white girl weighs THREE HUNDRED FUCKING POUNDS (guess how much this blue-eyed white girl weighs? go on, guess!) and ruins what could have been a perfectly good opportunity for straight men to sexualize her.
Other than that: Fat does not axiomatically equal unhealthy. Nor does not-fat axiomatically equal healthy. For the one millionth time.
Discuss.