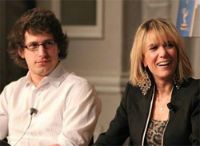 Fellow SNL cast member (and feminist ally) Andy Samberg on Kristen Wiig
leaving the show
:
"It's going to be a huge loss," Samberg exclusively told us last night at the MTV Sneak Peek of his new movie, That's My Boy. "She's one of the best that's ever done it without a doubt. She's also one of the sweetest ladies I've ever met and she's a great friend."

Getting through Wiig's much-talked about farewell was tough. "It was real sad," Samberg said. "We all love her so much."
Not only is that supersweet, but notice how he didn't feel obliged to say "she's one of the best
women
" who's ever done the show; just "one of the best," full-stop.
It's terrible that's so remarkable that I noticed it. But yay Andy Samberg! You continue to make me
jizz in my pants
.