[Content Note: Violence; racism; victim-blaming.]
The most amazing (not in a good way) thing I have read the past few days is the Fox Orlando affiliate's coverage of the National Socialist Movement, a Neo-Nazi organization, which has been conducting armed patrols of the streets of Sanford, Florida, the town in which Trayvon Marting was killed by George Zimmerman, in order to "keep white people safe." The article has since been
removed without explanation
, but at the top of this screen cap of the error page, you can still see the headline reflected in the lingering URL: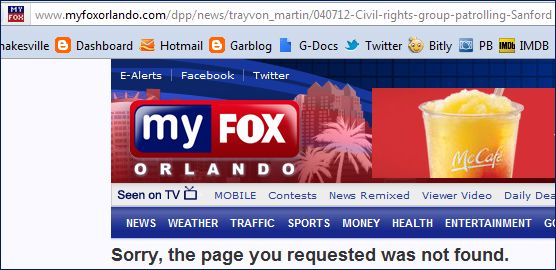 "Civil Rights Group Patrolling Sanford." Sure. Everyone knows the Neo-Nazis are definitely a "civil rights group." Yikes.
Judd at Think Progress has a clip of the report that aired
here
.
Welcome to Post-Racial America, where up is down, green is purple, hoodies make for justifiable homicide, and Neo-Nazis are a civil rights group. Fuuuuuuuuuck.
Recommended Reading:
Fox Detroit:
Michigan Construction Sign Displayed Racial Slur Directed at Trayvon Martin
.
CNN:
Students Protest as Decision Awaited in Trayvon Martin Shooting
.
Time:
The Problem with the 'Some of My Best Friends Are Black' Defense
.