[Content Note: This post contains misogynist and ableist slurs that are commonly used in discrediting narratives against Hillary Clinton and other influential women.]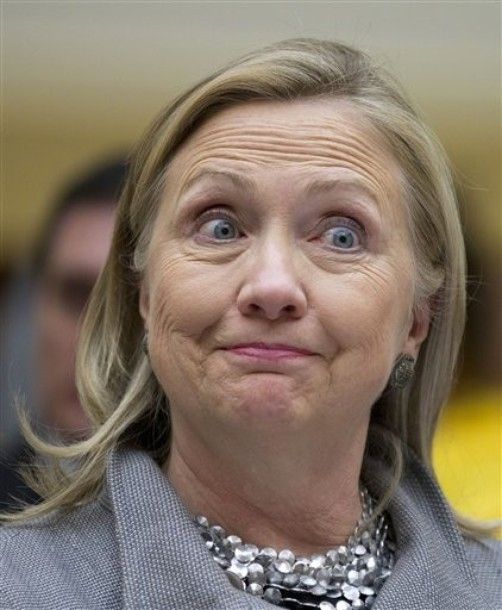 Secretary of State Hillary Rodham Clinton testifies on Capitol Hill in Washington Wednesday, Feb. 29, 2012, before the House Foreign Affairs Committee hearing "Assessing U.S. foreign policy priorities amidst economic challenges: The Foreign Relations Budget for Fiscal Year 2013." [AP Photo]
I looooooooooooooooove this photo. Especially after watching
that clip of her testimony from yesterday
. I know—believe me
I know
—that this is one of those classic "Hillary's Such a Crazy Bitch!" photos that have been used against her throughout the entirety of her career, but I RELATE TO THAT CRAZY BITCH FACE! I
make
that crazy bitch face. That is the face of a "crazy bitch" who has HAD IT UP TO HERE with the nonsense of the privileged dipfucks who control the fucking world and want to bicker over whether providing access to contraception to a starving woman in a developing country will make the Baby Jesus cry condom-shaped tears. I LOVE THAT FACE. It is the face in my mirror, and it is the face of every woman I know, of every color, of every age, of every country of origin.
"Really? REALLY?! We're really going to have this conversation?! AGAIN?! Really?! All right, buddy, fuck you, let's go." *that face*
The AP also has
this offering
among their wire photos today, which I also love, for entirely different reasons.