I was interviewed today for a piece about Secretary of State Hillary Clinton, and so I've spent much of my afternoon thinking about Clinton's capacity to inspire passionate support and visceral hatred, and what she's meant to and for women. I was reminded of this wire photo from last month, which is almost certainly worth my thousand words and then some.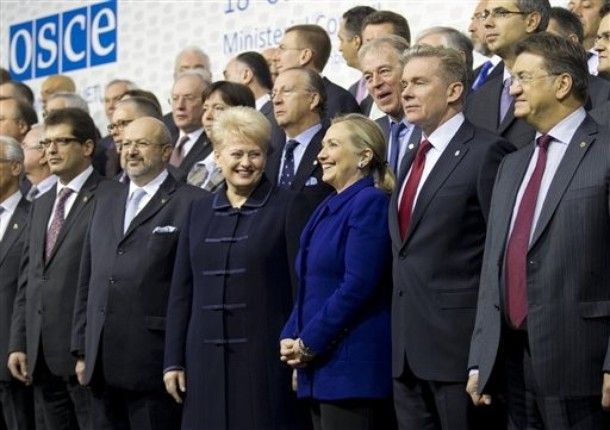 US Secretary of State Hillary Rodham Clinton, center, is flanked by Lithuania's Foreign Affairs Minister Audronius Azubalis, right, and Lithuania's President Dalia Grybauskaite, left, as they attend an international conference of the Organization for Security and Cooperation in Europe (OSCE), Tuesday, Dec. 6, 2011, in Vilnius, Lithuania. [AP Photo]
The way President Grybauskaite is looking at her! She's Lithuania's first female president and naturally has been dubbed the "Iron Lady." I can only imagine standing beside one another, they both feel the world-vanishing intimacy of secret familiarity that only orphaned members of the same diasporic tribe can truly understand. TWO GELFLINGS!