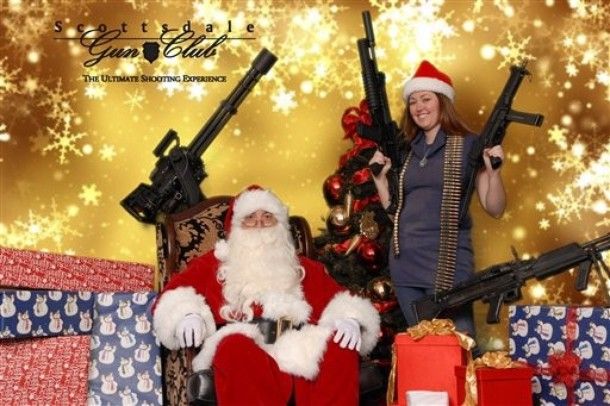 This undated image provided by the Scottsdale Gun Club shows a woman posing with Santa Claus and several guns at the Scottsdale, Ariz. club. Ron Kennedy, general manager of the gun club, says the business got the idea for the photo op last year when a club member happened to come in dressed as Santa and other members wanted their picture taken while they were holding their guns. He says people have used the photos for Christmas cards and Facebook posts. [AP Photo]
All right then.
I am not reflexively anti-gun; I have friends and family members who do target shooting, and I have family members who hunt for food, and, although it's not my scene, I'm pretty wev about it. I also respect that there are people who have ethical objections to gun ownership and hunting of any sort. This thread ain't about that debate.
It's about the fact that OMFG PEOPLE ARE POSING WITH SANTA WITH GIANT-ASS GUNS. Or, to be more clear, about an aspect of gun culture that has nothing to do with principled debates and everything to do with fetishizing deadly weaponry. Yikes.