So, one of the things about living in a culture that despises fat bodies is that fat women (and fat men, too) are expected—especially by corporate employers—to be at least as stylish and put together as not-fat people, and usually even more so, since any evidence of being unfashionable while fat carries with it all kinds of moral judgment, too—
she's lazy, she doesn't even try, she doesn't care about herself.
If you're fat and unstylish, you're not just unhip: You're frumpy, sloppy, indolent, dirty,
gross.
In addition to all the usual impediments to being fashionable that everyone faces—e.g. it takes some money to be fashionable, even if you're a spectacular thrifter, and it takes time and effort and energy that not everyone has—fat women's new clothing is more expensive than not-fat women's clothing, and fat women have fewer second-hand options,
because
we tend to hang onto things until they're falling apart, given the difficulty of replacing a loved item that fits well on a fat body.
So we've got a more demanding expectation to "show some effort" in putting ourselves together, but greater barriers to achieving that goal. And then there's this: We're asked to understand what looks good on our bodies, while virtually never actually seeing bodies like ours in magazines, films, television series, runway shows, or anywhere else where women are meant to turn for style guidance.
This cavernous void of fat fashionplates was evident (again) when I was thinking about cutting off my hair a couple of weeks ago. I haven't had a pixie-length cut since I was 11 years old, and I wanted a change from my ever-present bob, which I've had in various lengths for nearly 20 years. I was pretty sure I wanted a pixie cut, but, having internalized for many, many,
many
years the message that
fat girls shouldn't have short hair,
I did a little googling to seek out images of fat women with pixie cuts:
What could I expect to look like?
I quickly discovered that I was more likely to find
this image of Val Kilmer
than I was an actual picture of an actual fat woman with short hair. I also found a lot of images of any vaguely round-faced actress:
Ginnifer Goodwin
came up a lot. This was not the result for which I'd hoped when searching for fat women with pixie cuts.
All my life, I'd been told that my face was too fat for short hair, and now Google Images seemed to be telling me the same thing.
Where are we, we fat women, we epidemically fat women? Where are my sisters? I want to see them.
I recalled every hair appointment where I've had to fight hairdressers even to give me the chin-length bob I wanted: "It will accentuate the roundness of your face if we go that short," they tell me, as if it's a grim warning, their face breaking into a "suit yourself (but you're making a mistake)" look of judgey disgust when I inform them that I
like
my roundy face and I'm not afraid of accentuating it.
Not only do I have the dreadful fat face, but I also have melasmas (skin discolorations) on my cheeks and across the back of my neck, which hairdressers are always keen to hide.
It might, I thought, be a battle to get the haircut I wanted.
I went to my $20 hairdresser armed with
a picture of Michelle Williams
, owner of arguably the most covetable pixie of all time, and
a picture of Beth Ditto
, sporting a pixie. "I want Michelle Williams' cut, and I understand that I am going to look like Beth Ditto," I said. "I also know that the cut will accentuate the roundness of my face, and will make my melasmas more noticeable
and I am okay with that.
"
In truth, it has been a hard-won fight to be okay with that, with my fat face and my discolored skin and my mismatched earlobes and my every little imperfection that longer hair helped to hide or mitigate. It took me a long time to walk into a hairdresser and ask for a haircut that "fat girls aren't supposed to have," not knowing, really, what I was going to look like with it, since pictures of beautiful fat ladies with short hair—beautiful fat ladies, full-stop—are so few and far between.
"You got it," she said. And so I did.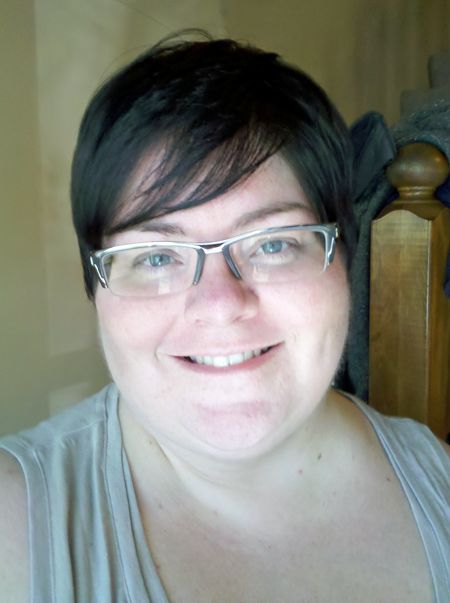 I'm not posting this picture in solicitation of compliments, or insults, though I'm sure I'll get both. It doesn't matter what anyone else thinks—I love it. It's just what I wanted, and it's easy, and it's versatile—sometimes I wear it in more of
a boyish pixie
, and sometimes I wear it
shaggy and tousled
, and sometimes I wear it spiky and madcap (of which I don't have a picture). And it makes me feel good.
I'm posting it just to put one more picture out there in the world of a fat woman with a pixie cut. Other women might look at it and think, "Hell yes," or they might look at it at think, "Hell no," but the point is, they'll have something to look at.
[
Note:
Fat female readers with short hair are welcome and encouraged to submit their own pictures in comments.]